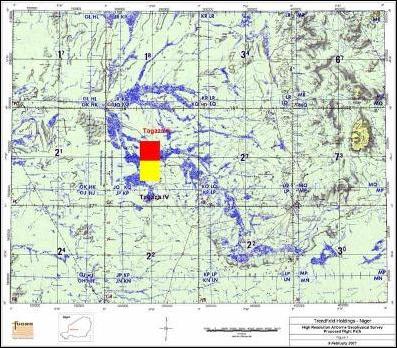 Niamey (PRWEB) April 16, 2007
Fugro Airborne Surveys (PTY) Ltd weather conditions permitting will start today a fixed wing airborne magnetic and radiometric survey over TRENDFIELD HOLDINGS SA (TH) uranium blocks, Tagaza II and Tagaza IV, these permits represent an area of 500 km2 each and are located in the North of In Gall, in the Department of Tchirozérine, Province of Agadez. It is anticipated that flying, comprising approximately 4,723 lkm, will be completed within a week. Minimum Line Length 10000 metres, Line Spacing and Trend 250 metres at 090°, Tie Line Spacing and Trend 2500 metres at 180°, Sensor Clearance 80 metres for Magnetic and 80 metres for Radiometric. It is envisaged that the interpretation will be completed within 42 working days after the completion of the final magnetic and radiometric processed data.
TH a fully owned subsidiary of TRENDFIELD ENERGY & RESOURCES PLC, was awarded the permits known as TAGAZA II and TAGAZA IV in January 2007, adjoining on the existing permit of Teguidda where reserves are currently estimated at 15000 tU308. TH goal for Tagaza II and Tagaza IV, to highlight economically valuable uranium deposits within our three years exploration permits.
###