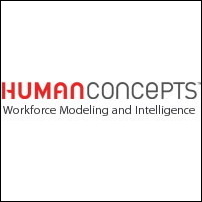 Sausalito, Calif. (PRWEB) April 16, 2007
HumanConcepts will be at the ASUG-SAPPHIRE annual SAP users' conference, April 22nd to 25th, 2007, in Atlanta, Ga. to showcase OrgPlus® intelligent organization charting technology. At the conference, HumanConcepts will make a highly anticipated announcement with respect to its desktop and enterprise products. In March, the company announced a deeper level of product integration with SAP.
WHAT: The 2007 ASUG (American SAP Users Group) Annual Conference is taking place in conjunction with SAP SAPPHIRE, making it the year's premier educational event for SAP users interested in networking, knowledge sharing and collaborating to influence the direction of SAP solutions and services.
WHO: HumanConcepts is the developer of OrgPlus®, the leading software for intelligent organizational charting and workforce modeling. OrgPlus is a platform for productivity that provides visual access to critical employee information needed for planning change in reaction to shifting business conditions.
WHY: OrgPlus Enterprise automates and centralizes organizational charting using HR data directly from SAP. Centralized, web-based organization charts allow for visual communication of an organization's hierarchy, provide visual access to HR metrics and serve as an electronic platform for capturing and actioning workforce change.
WHEN: ASUG-SAPPHIRE will take place April 22-25. The show floor opens to visitors April 23rd at 8:00 a.m. HumanConcepts will make its product announcement on Monday, April 23rd and will be there to discuss with SAP users how OrgPlus helps them capture increased return on their SAP investments.
WHERE: ASUG-SAPPHIRE will take place at the Georgia World Congress Center in Atlanta, Ga. The conference expo will be held in buildings A, B and C, including the International Plaza.
For more information about the ASUG-SAPPHIRE conference or to register for the event, visit http://www.sapandasug.com or call (312) 321-5142.
CONTACT:
Ron Campbell
HumanConcepts
(415) 275-9182
About HumanConcepts
HumanConcepts is the leading provider of workforce modeling and intelligence solutions. With its OrgPlus technology charting millions of employees for organizations worldwide, including 400 of the Fortune 500, HumanConcepts has defined best practices in organizational charting. OrgPlus uniquely integrates with HR systems to automatically create, update and distribute organizational charts for team collaboration, workforce planning and critical decision-making. OrgPlus integrates seamlessly with Microsoft Office applications.
HumanConcepts is based in California with offices in the United Kingdom and Germany and offers OrgPlus software and services worldwide. For more information please visit http://www.humanconcepts.com.
This press release was distributed through eMediaWire by Human Resources Marketer (HR Marketer: http://www.HRmarketer.com) on behalf of the company listed above.
###