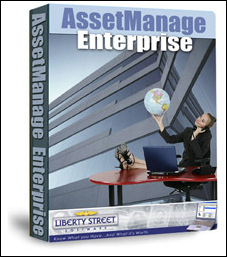 Our customers have always loved our user interface and advanced asset tracking features
MISSISSAUGA, ON (PRWEB) April 17, 2007
Liberty Street Software, a leading asset tracking software provider, today announced the release of AssetManage Enterprise 2007. AssetManage Enterprise will keep track of where assets are located, their current status, and to whom they are currently assigned. AssetManage can keep track of all expenses related to an asset. With AssetManage Enterprise 2007, companies large and small can manage all of their assets, including: office equipment, tools, furniture, computers, vehicles, and other fixed assets.
"Our customers have always loved our user interface and advanced asset tracking features," said Paul Dembowski, president of Liberty Street Software. "With the release of AssetManage Enterprise, they can now use SQL Server, MySQL or any other ODBC-compatible database to store their data, without the huge expense and learning curve typical of fixed asset software."
AssetManage Enterprise offers customers a wide variety of asset management features including:

Barcode support. AssetManage can be used to scan and print barcode labels in all the major barcode formats.
Keeps track of all expenses related to an asset, including repairs, fuel costs, mileage and maintenance schedules.
Tasks and other activities related to an asset can be tracked, complete with task due date, assignment and completion date.
Depreciation tracking - AssetManage calculates both Annual and Monthly depreciation schedules using the five most common depreciation methods. Version 2007 now supports the ability to specify prior depreciation.
Images. Up to 4 images can be attached to each asset. A thumbnail image of the asset is shown in the asset list view to facilitate identification.
Asset Audit - Missing assets can be identified by using a barcode scanner to scan all assets in a location, then running the Asset Audit Wizard.
Multi-User ready - AssetManage Enterprise can support from one up to hundreds of simultaneous users.
AssetManage Enterprise 2007 comes with a comprehensive selection of pre-defined reports, including several Depreciation and Asset Disposal reports. In addition, the integrated report designer can be used to create custom reports and barcode tags. Custom barcode tags can be designed to include company logos & then printed directly from the program. Reports can be exported to PDF, HTML, Excel, RTF, XML, text, and other popular formats. All standard barcode formats are supported, including Code 128, Code 39, UPC, PostNet, Ean 128, and Ean 13.
AssetManage will keep track of leases, warranties, and service agreements, as well as asset maintenance and repair history. An unlimited number of attachments can be associated with each assets, a great way to keep track of invoices, spreadsheets and other documents related to an asset. AssetManage 2007 supports the five most commonly used depreciation methods: straight line, double declining balance, 150% declining balance, straight percentage, and sum of the years digits.
AssetManage is currently being used in thousands of installations across the globe, including the New York City Police Department and the United Nations in New York.
AssetManage Enterprise 2007 runs under Windows 98/Me/NT4/2000/2003 Server/XP/Vista, and is affordably priced starting at $249 for a single user license. The program requires a valid license for SQL Server, MySQL or whichever backend database will be used to store the asset database. The free Microsoft SQL Server 2005 Express Edition is supported. A Standard version of AssetManage which uses a Microsoft Access 2000 data file is also available for as little as $150 for a single user.
AssetManage may be purchased securely online at http://www.AssetManageSoftware.com. Multi-user licenses are available. A 30-day free trial copy is available for download.
For more information, contact Liberty Street Software, P.O. Box 11714, Markland Wood Postal Outlet, Etobicoke, ON M9C 5S2 Canada. Internet: http://www.AssetManageSoftware.com.
Contact: Paul Dembowski, (888) 250-6615 or (905) 566-5082
Evaluation Copy Available on Request
About Liberty Street Software
Since 1997, Liberty Street Software has been developing and marketing inventory and financial software. In addition to AssetManage 2007, the company also offers HomeManage, a home inventory program for homeowners and home inventory companies.
###