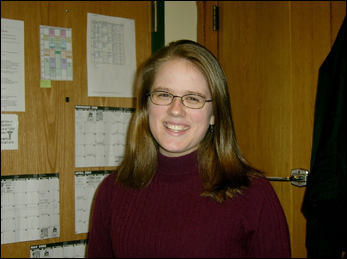 I was very excited, and I still am very excited!
Indiana, PA (PRWEB) April 17, 2007
Robert E Cook Honors College sophomore Beth Paladin, chemistry major at Indiana University of Pennsylvania (IUP), was awarded the Barry M. Goldwater Scholarship for the 2007 - 2008 academic year. The Goldwater award is bestowed on 300 sophomores and juniors throughout the country for research done in the fields of the natural sciences, mathematics and engineering. Applicants are judged on their grades, commitment to their field of study and potential for excellence. Awardees are encouraged to pursue higher degrees in their selected fields.
The essay Beth submitted for the scholarship focused on the work she had started last spring with Dr. Heba Aourhma. Starting research as a freshman, Beth studied a specific aspect of organic chemistry with Dr. Aourhma. This research is intended to result in the refinement of drugs by modifying certain physical properties. Beth stated that this medical research was "so rewarding" not only in the scientific aspects, but also in the end goal of the study - helping people.
When asked when she first heard about the Goldwater Award, Beth stated that she had read about it before even attending IUP in a chemistry newspaper. However she accredits both the Robert E. Cook Honors College and the IUP Chemistry Department for prompting her to apply for the scholarship. The Honors College professors not only encouraged Beth to submit her work, but also facilitated her throughout the process. The winning research was supplied in part by the Chemistry Department. "In another chemistry department," Beth said, "you would be fighting for the professor's attention along side juniors and seniors. Here at IUP, the size of the program allows research opportunities for freshman and sophomores. It's a major advantage of the program."
And how did she react when she found out she had won? "I was very excited, and I still am very excited!" Beth said she felt not only thrilled, but honored to be winning such an award. After a wide grin, she added, "And, of course, I felt a little surprised." Beth is the fourth IUP honors college student in the past five years to receive a Goldwater Scholarship. She joins previous winners from the Robert E Cook Honors College at IUP which include Tom Baker (05), Bridget Mooney (05) and Kristin Juhasz (07).
When not studying chemistry or winning awards, Beth participates in a wide range of activates, especially music. She has been playing the cello for nine years, and is a member of the IUP Chamber Winds. Beth recently exhibited her musical ability in a pre-concert performance at Heinz Hall.
When one thinks of the esteemed Barry M. Goldwater Scholarship, such phrases as dedication to academics, extraordinary potential and prestigious award come to mind. One more phrase can now be added to the list: Beth Paladin.
Contact Information:
Robert E Cook Honors College
Indiana University of Pennsylvania
290 Pratt Drive, 136 Whitmyre Hall
Indiana, PA 15705
1-800- 487-9122
IUP is a member of Pennsylvania's State System of Higher Education.
###