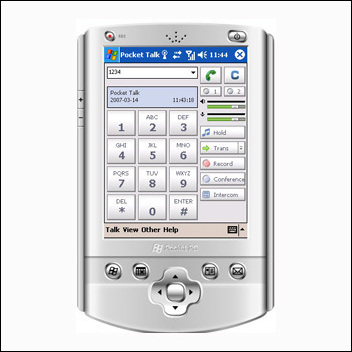 One of the best features carried over from the original PC version is the clean and modern interface
Canberra, Australia (PRWEB) April 17, 2007
NCH Swift Sound, specialists in business and audio software, announced the release of Express Talk for Pocket PCs.
"One of the best features carried over from the original PC version is the clean and modern interface," said Stephanie Lee, marketing and sales manager for NCH Swift Sound. "We have deliberately stayed away from the ultra modern look of our competitors and this decision has enabled us to carry over a similar clean interface to the smaller Pocket PC screens."
Express Talk for Pocket PC (nicknamed Pocket Talk by the NCH team) is a solution that enables business employees to take advantage of VoIP technology and rates through their handheld devices. It provides nearly all the features available on the PC version via a Windows CE handheld device.
Including features such as two lines, call recording, on-hold, conferencing, transfer and push to talk (intercom) the application offers similar functionality as it's competitors. The underlying core audio technology that NCH Swift Sound has developed over the last 14 years, however, ensures the quality of the primary function of the application is not compromised by bells and whistles.
"We started off be developing audio technology for business telephone systems and it is still our primary focus today. If the quality of the telephone call is affected by the application then there is no point offering one hundred and one features," said Stephanie. "We take this attitude with all of our applications and their underlying audio capabilities."
ExpressTalk for Pocket PC can be downloaded from the Express Talk product page. Due for release in the next few months will be Express Talk for Mac OS X.
NCH Swift Sound is a leader in audio technology. Since 1993 the software development team has released more than 40 Windows, Mac, Palm and Pocket PC applications which are now leaders in their classes and have been awarded for software excellence. The programmers work as, or closely with, sound engineers every day and therefore are able to offer the highest level of expertise and understanding of audio. See NCH Swift Sound or NCH Software for more information.
###