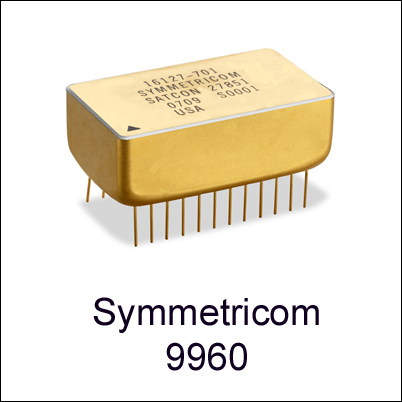 Symmetricom's thirty-five years of legacy in high reliability and performance quartz oscillators are now available in hybrid construction for applications that require minimal size, weight and power
San Jose, CA (PRWEB) April 19, 2007
Symmetricom, Inc. (NASDAQ: SYMM), a worldwide leader in precise time and frequency technologies that accelerate the deployment and enable the management of next generation networks, today announced the 9900 series of hybrid space crystal oscillators comprised of simple clock oscillators (XO), voltage controlled crystal oscillators (VXCO) and higher performance temperature compensated crystal oscillators (TCXO). Based on proven designs and manufacturing techniques for high reliability in numerous space applications, the hybrid oscillators provide high performance and a wide range of output frequency with exceptional stability in a ruggedized, low power, light weight package.
"Symmetricom's thirty-five years of legacy in high reliability and performance quartz oscillators are now available in hybrid construction for applications that require minimal size, weight and power," commented Doug Lowrie, product marketing manager at Symmetricom. "Our combination of space qualified OCXO products and these new hybrid oscillators position Symmetricom as the most diverse supplier of high performance oscillators for space applications. These products perform in environments of exposure to high levels of shock, vibration and radiation, vigorous requirements for space applications."
The 9900 series comprises the models 9920, 9940 and 9960, providing the following features:

10 MHz to 1.2 GHz Output Frequency
Mil-prf-38534 Class H or K Certified
Fixed Frequency and Voltage Controlled
Sine Wave, PECL outputs
Low Aging and Phase Noise
Optimized Phase Noise
Radiation Hardened
Environmentally Robust
The 9900 Series utilizes 3rd or 5th overtone AT cut crystals in a Colpitts configuration with optional multiplication circuitry and output amplifier or driver stages. The precision crystals are contained within hermetic or vacuum-sealed packages housed within the hybrid circuit package resulting in the lowest end of life frequency drift possible. Output type and package are available in industry standard configurations to meet standard and custom applications. The hybrids are manufactured in a mil-prf-38534 class K facility that provides for the maximum reliability.
Availability
The 9900 series will be shipping in April 2007.
For more information, visit: http://www.symmsda.com/PR/Crystal_Oscillators.asp.
About Symmetricom, Inc.
As a worldwide leader in precise time and frequency products and services, Symmetricom provides "Perfect Timing" to customers around the world. Since 1985, the company's solutions have helped define the world's time and frequency standards, delivering precision, reliability and efficiency to wireline and wireless networks, instrumentation and testing applications and network time management. Deployed in more than 90 countries, the company's synchronization solutions include primary reference sources, building integrated timing supplies (BITS), GPS timing receivers, time and frequency distribution systems, network time servers and ruggedized oscillators. Symmetricom also incorporates technologies including Universal Timing Interface (UTI), Network Time Protocol (NTP), Precision Time Protocol (IEEE 1588), and others supporting the world's migration to Next Generation Networks (NGN). Symmetricom is based in San Jose, Calif., with offices worldwide. For more information, visit http://www.symmetricom.com.
Contacts:
Raychel Marcotte
BroadPR
617-645-6022
raychel(at)broadpr.com
###