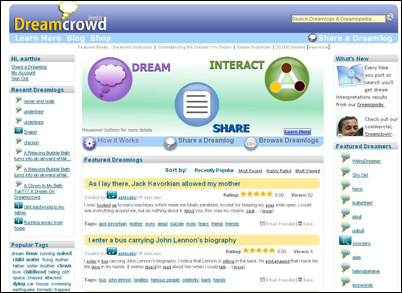 Los Angeles, Calif. (PRWEB) April 17, 2007
Crowdspin® announced today the launch of Dreamcrowd®, the first online community based on dreams and dream interpretation. Dreamcrowd (http://www.dreamcrowd.com) offers a powerful forum where users can post dreams in the form of dreamlogs™ and receive instant interpretation from the site's Dreamopedia™. The site also boasts a variety of community tools such as a comment engine, history log and tag-based search engine.
The inspiration for Dreamcrowd came from the countless times the founders heard their friends and family sharing and trying to make sense of their dreams. 'We were inspired to develop Dreamcrowd to answer to all the people that want to share, explore and understand dreams - to develop an online community like MySpace for the very specific world of dreams,' said Crowdspin's founder, Ruben Dua, 'Everyone dreams so its very exciting to be offering something that everyone can use.'
Since the site was launched in its alpha release just a week ago, the creators have been overwhelmed by the thousands of dreamlogs posted. The site has become a daily dream journal for many of its users and the creators are constantly adding new features to improve functionality, privacy options and dream interpretation.
Dreamlog
Dreamcrowd is driven by the dreamlogs that its members post. These 'blogs for dreams' range from a few words to several paragraphs that describe the dream. Once a dreamlog is posted, the site automatically provides interpretation of the dream based on key words and phrases.
Dreamopedia
The site's creators are especially proud of Dreamopedia, which is by far the most robust resource available for interpreting dreams. Dreamopedia contains over ten thousand dream interpretations and allows people to provide suggestions for adds and edits.
Privacy Options
Dreamcrowd is intended to be an entertainment destination where people can enjoy reading and interacting on others' dreams, however, the site also provides privacy options for people who wish to post dreamlogs for only certain invitees to read.
Dreamcrowd is the first of Crowdspin's online communities. For more information about Dreamcrowd visit (http://www.dreamcrowd.com) or call 310.694.9608.
Dream on™
About Dreamcrowd
Dreamcrowd is an online community based on dreams and dream interpretation. The site allows users to post dreamlogs and receive instant interpretation from the site's Dreamopedia. Dream on at http://www.dreamcrowd.com
About Crowdspin
Crowdspin is a development firm that specializes in campaign-oriented solutions for its clients. Please visit http://www.crowdspin.com for more information.
###