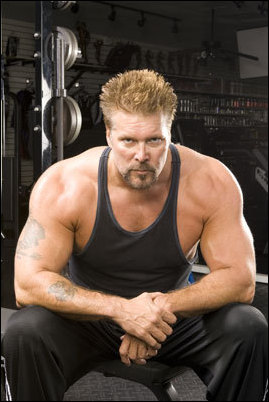 Fortunately, I'm still at the top of my game, so I have plenty of options. I can see myself doing both (acting and wrestling) in the coming years.
Manasquan, NJ (PRWEB) April 18, 2007
At 47 years of age, Kevin Nash knows that his days of ring glory are nearing their end. The former WWE legend and current TNA attraction has already garnered a lifetime's worth of accolades, including an unprecedented 18 championships. Now the man known as "Big Sexy" hears the call of Hollywood. His recent film credits (The Punisher, The Longest Yard, DOA: Dead Or Alive) have only sharpened his appetite for more glory on the silver screen.
Fortunately, his real appetite, in the form of his daily diet regimen, is precision targeted to maintain heaps of razor-sharp muscle and proportionately little body-fat on his colossal 6'10" 300-pound frame.
"A guy my size needs a tremendous amount of protein on a daily basis, just to maintain peak size, strength, and performance," Nash says. "Basically, that means six or seven small meals a day, so I depend on protein supplementation. Lately, I've discovered ProSource Supreme Protein bars and they're just rock-solid nutrition. Each bar has 30 grams of top-quality protein, and they're absolutely delicious. I take a couple with me wherever I go, so I'm never tempted to eat junk when I'm on the run."
Nash has been talking up ProSource big-time since the sports supplement leader came to his rescue late last year regarding another issue central to his physique and performance.
Confronted with a blood test that showed his testosterone levels dropping into the 550 range, he was tipped off to a natural testosterone enhancer from ProSource called AndroTest.
After four months on ProSource's testosterone-boosting formula, Nash returned to his doctor -- and found out his levels had skyrocketed to 989, a staggering increase of 439 nanograms per deciliter. Newly invigorated, Nash says he's ready to tackle a future inside and outside the ring. "On AndroTest, I've been able to go full out and have high energy levels, good drive, and good results."
All of which presents Nash with a quandary. He knows it's time to move on and seek a career in Hollywood. The offers are coming in. And yet, he's never felt better.
"I enjoy my association with TNA," he says. "Fortunately, I'm still at the top of my game, so I have plenty of options. I can see myself doing both (acting and wrestling) in the coming years."
Given his remarkable athleticism, physique, and all-round vitality, the future looks bright for the legendary big man. After 17 years in the game, Nash still stands tall, in better shape then ever, and he's ready to add another chapter to his storied legacy of wrestling championships and awe-inspiring roles on the silver screen … with a little help from ProSource Supreme Protein bars and AndroTest along the way.
###