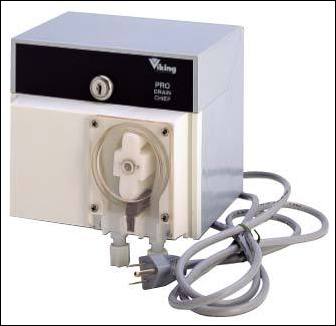 This is a great addition for our company
Dallas, TX (PRWEB) April 18, 2007
Natural Environmental Systems, LLC has signed on to distribute the Pro Drain Chief line of automatic injection pumps from Viking Injector for use with the company's current line of bacteria products.
The Pro Drain Chief allows restaurant owners to automatically dispense any amount of liquid bacteria into the grease trap at any programmed time for effortless grease trap maintenance and reduced incident of human error.
"This is a great addition for our company", states Casey Coke, Natural Environmental Systems. "We now have the ability to offer restaurant owners and operators a complete system for maintenance of their grease traps. Most grease trap bacteria have to be applied either down the drain or requires a person to manually apply directly into the grease trap. This product, coupled with our concentrated Natural Enviro 1000 injection system re-fill packets, gives restaurant owners a simple, cost effective method of keeping their grease traps clear and odor free, while also reducing the need for pump-outs."
Grease digesting bacteria is a common additive for grease trap maintenance. In addition to the Pro Drain Chief and Natural Enviro 1000 Re-fill Packets, Natural Environmental Systems also has grease trap bacteria available as a liquid, powder and slow-dissolve blocks to accommodate all types and sizes of grease traps.
For more information on these products or to become a distributor, please call 800-999-9345 or visit http://www.naturalenviro.com.
About Viking Injector
Viking Injector, located in Nesquehoning, PA, has over 40 years experience in the manufacturing of dispensing systems. The company manufactures dispensing products for warewash, drain, laundry and industrial applications.
http://www.viking-injector.com
About Natural Environmental Systems
Natural Environmental Systems L.L.C., headquartered in Dallas, TX, offers a line of all-natural, chemical free, live microbial products that when used correctly are highly effective in controlling a wide array of environmental and sanitation problems. The company sells products for soil, plants, grease traps, septic systems, pond maintenance and animal health and odor control, along with bioremediation and oil spill clean-up.
Contact: Casey Coke
Natural Environmental Systems, L.L.C.
5000 Quorum Dr. #300
Dallas, TX 75254
Toll Free: 800-326-1667
info @ naturalenviro.com
http://www.naturalenviro.com
###