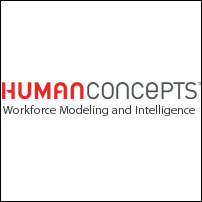 Going Global: Visualizing and Supporting a Borderless Enterprise
Sausalito, Calif. (PRWEB) April 19, 2007
HumanConcepts, developer of OrgPlus®, the leading software for intelligent organizational charting and workforce modeling, will host a complimentary webinar online for human resource management and executives of large and small organizations. The webinar entitled "Going Global: Visualizing and Supporting a Borderless Enterprise" will be held on April 25, 2007.
What: This complimentary and informative webcast will provide thought leadership about how centralizing workforce data and creating and communicating a clear picture of an organization's global hierarchy can maximize the effectiveness of resources worldwide. HR professionals will learn how to strengthen their competitive position by using industry best practices and web-based organizational charting and workforce modeling technology.
Who: Karen Beaman, CEO of transnational management consulting firm Jeitosa Group International, and Jim Candler, VP of Product Strategy at HumanConcepts. Candler is a 25-year HR industry veteran and was formerly VP of HRIS at FedEx as well as product strategist for Dave Duffield's new company, Workday.
Why: Learn valuable information from HR experts including:

How to design global organizational structures that deliver the highest value and ROI
How to develop a clear picture of an organization using an intelligent organizational charting and workforce modeling solution
How to effectively communicate up-to-date information to key stakeholders at multiple international locations
When: The Going Global: Visualizing and Supporting a Borderless Enterprise webinar will take place April 25 at 2:30 pm EST / 11:30 am, PST and will be one hour in duration.
Where: The complimentary webinar will be broadcast by HR.com, the Web's largest online community for HR professionals. Registration is required for access.
For more information about the webinar visit: http://www.orgplus.com/webinar/global.htm.
Contact:
Ron Campbell
Public Relations Manager
HumanConcepts
(415) 275-9182
About HumanConcepts
HumanConcepts is the leading provider of workforce modeling and intelligence solutions. With its OrgPlus technology charting millions of employees for organizations worldwide, including 400 of the Fortune 500, HumanConcepts has defined best practices in organizational charting. OrgPlus uniquely integrates with HR systems to automatically create, update and distribute organizational charts for team collaboration, workforce planning and critical decision-making. OrgPlus integrates seamlessly with Microsoft Office applications.
HumanConcepts is based in California with offices in the United Kingdom and Germany and offers OrgPlus software and services worldwide. For more information please visit http://www.humanconcepts.com.
This press release was distributed through eMediawire by Human Resources Marketer (HR Marketer: http://www.HRmarketer.com) on behalf of the company listed above.
# # #