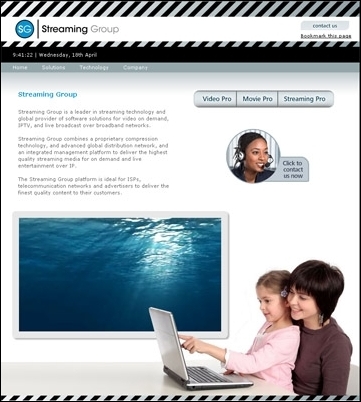 We help customers all over the world with our proprietary Internet-TV solutions
(PRWEB) April 19, 2007
With the help of Streaming Group's streaming technology and software solutions for Video on Demand (VoD), IPTV, and live broadcast over broadband networks, telecommunication networks and advertisers are able to deliver the finest quality content to their customers all over the world.
To date, Internet World Stats Usage and Population Statistics report that in North American alone 233 million people use the Internet. As if this statistic isn't significant on its own, consider the fact that from 2006 to 2007 the number of Internet users in North America also grew 115.7%. Content producers and network providers that want to keep up with both the times and consumer trends enlist the help of the Streaming Group - a premier streaming media company that provides media/video technology, VoD and IPTV solutions worldwide.
Streaming Group's CEO Maurits P. Rijkeboer MBA, an IPTV, live broadcast and VoD authority, has had 10 years of success in streaming media technology and marketing.
"We help customers all over the world with our proprietary Internet-TV solutions," Rijkeboer says. "We target content providers, Web portals, advertisers, digital magazine operators and anyone else who wants to deliver their viewers full screen, DVD quality live content and videos on demand."
Streaming Group is a VoD authority because it has developed a set of proprietary technologies for video compression, management and distribution. It has revolutionized the streaming world because its talented staff has solved the major issues such as connection interruptions, poor picture and sound quality and delivery expenses that surround Internet video delivery.
"We're one of the leading streaming media companies because we work to offer our clients the best video experience, but we also make it simple and inexpensive for them to operate and manage," Rijkeboer says. "Explore our technology and learn how Streaming Group is bringing the world of television to the Internet."
To learn more about Streaming Group's IP video solutions and custom packages, or to enlist them as your VoD authority, please visit StreamingGroup.com.
About Streaming Group:
Streaming Group, one the leading streaming media companies, is the largest provider of streaming solutions to customers worldwide and provides streaming media/video technology, Video on Demand (VoD) and IPTV solutions. Established in 2000, it develops and markets unique turnkey Video on Demand and live broadcast platforms, which enable operators and publishers to deliver television-quality streaming services to PC, mobile devices and television sets. Streaming Group is dedicated to offering its customers and their audiences the best IPTV experience while making it simple and affordable at the same time.
###