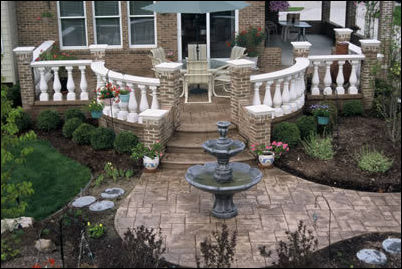 Yucaipa, CA (PRWEB) April 20, 2007
As the seasons change, so do the interests of homeowners around the nation. The Concrete Network, the largest and most comprehensive source for concrete information anywhere in the world, revealed two categories quickly moving up in the ranks as two of the most researched decorative concrete topics: Concrete Patios and Stamped Concrete. The data illustrating this trend is derived from Web site statistics from The Concrete Network, which generates over 900,000 visitors per month, much more than any other site in the field. These statistics are useful to homeowners, contractors and others in the industry who want to know what decorative concrete applications are becoming more, and more popular.
Right alongside the days getting longer and the weather getting warmer, the concrete patio category and stamped concrete category have started moving up in the rankings. In the last six months, visitor searches have been primarily centered on staining concrete and concrete interior floors. But March marks the shift in thinking from staying inside and keeping warm to heading outdoors and working in the yard or on the house. Now concrete patios are the number one researched topic on The Concrete Network. And the popularity of the stamped concrete category has risen from the number seven position of the top 10 most popular categories to number three in the rankings.
The current top five most popular categories on The Concrete Network include:
1. Concrete Patios
2. Staining Concrete
3. Stamped Concrete
4. Concrete Resurfacing
5. Interior Concrete Floors
Today's backyard concrete patios are as unique as their owners. The concrete patio category provides information about designing outdoor patios and outdoor rooms with surface treatment options, pictures of color and design possibilities, blending patio design with surrounding elements, and maintaining a concrete patio.
The stamped concrete category offers ideas for stamped concrete applications including driveways, pool decks, porches and entries, along with providing a chart of available pattern designs and colors, a review of the stamping process, proper stamped concrete tips, and more. Concrete stamping can provide an economical replica of more expensive materials, and yet still maintaining a very natural, authentic look.
For examples of all that decorative concrete has to offer, visit The Concrete Network's extensive online photo gallery.
Established in 1999, The Concrete Network's purpose is to educate consumers, builders, and contractors on popular decorative techniques and applications including stamped concrete, stained concrete floors, concrete countertops, polished concrete, and much more. In March 2007 The Concrete Network Web site had 997,745 visitors researching decorative concrete.
The site excels at connecting buyers with local contractors in their area through its Find-A-Contractor service. The service provides visitors with a list of decorative concrete contractors throughout the U.S. and Canada, and is fully searchable by 23 types of decorative concrete work and 200 metropolitan areas throughout North America.
Release image courtesy of Action Concrete Services. Attached photos courtesy of SuperKrete Products.
###