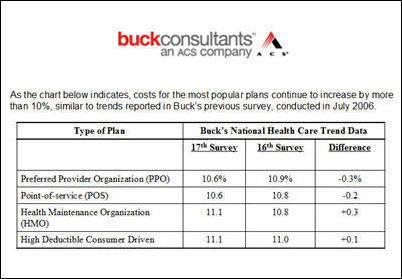 National Health Care Trend Survey
New York (PRWEB) April 24, 2007
Costs for the most popular types of health care coverage are projected to increase at double-digit rates in 2007, according to a national survey of insurers and administrators. The survey released today by Buck Consultants, an ACS company and one of the world's leading human resource and benefits consulting firms, analyzed responses of more than 70 health insurers, HMOs and third-party administrators.
In its 17th National Health Care Trend Survey, Buck Consultants measured the projected average annual increase in employer-provided health care benefit costs. Insurers providing medical trends for the survey cover a total of approximately 50 million people.
Health insurers reported an average prescription drug trend of 11.3%, down .1% from 11.4% reported in the prior survey. This is considerably higher than the 5.2% reported by pharmacy benefit managers (who generally do not take any underwriting risk).
"Employers need to consider all available strategies for controlling their health care costs," said Harvey Sobel, FSA, a Buck Principal and Consulting Actuary who directed the survey. "Many of our clients have had success through consumer driven health care plans, care management programs, and vendor audits and management."
Health insurers use trend factors by coverage — such as medical, prescription drugs, dental, and vision care — to calculate their premium rates, and large self-funded employers use these trend factors to budget their future health care costs. In general, trend factors provide for price increases that may result from such variables as inflation, utilization of services, technology, changes in the mix of services, and mandated benefits.
Trend factors for Medicare supplement, dental, and vision coverage are also included in BuckÂ's survey.
Buck Consultants, an ACS company, is a leader in human resource and benefits consulting with more than 1,500 professionals worldwide. Founded in 1916 to advise clients in establishing and funding some of the nationÂ's first public and private retirement programs, Buck is an innovator in the areas of retirement benefits, health and welfare programs, human resource management, compensation, and employee communication. News and other information about Buck Consultants is available at http://www.buckconsultants.com. Buck is an independent subsidiary of Affiliated Computer Services, Inc.
ACS, a global FORTUNE 500 company with 58,000 people supporting client operations reaching more than 100 countries, provides business process outsourcing and information technology solutions to world-class commercial and government clients. The Company's Class A common stock trades on the New York Stock Exchange under the symbol "ACS." ACS makes technology work. Visit ACS on the Internet at http://www.acs-inc.com.
The statements in this news release that do not directly relate to historical facts constitute "forward-looking statements" within the meaning of the Private Securities Litigation Reform Act of 1995. These statements are subject to numerous risks and uncertainties, many of which are outside the Company's control. As such, no assurance can be given that the actual events and results will not be materially different than the anticipated results described in the forward-looking statements. Factors could cause actual results to differ materially from such forward-looking statements. For a description of these factors, see the Company's prior filings with the Securities and Exchange Commission, including our most recent filing. ACS disclaims any intention or obligation to revise any forward-looking statements, whether as a result of new information, future event, or otherwise.
Buck's 17th "National Health Care Trend Survey" is available to the media by contacting Ed Gadowski at 201-902-2825. It is available to other interested parties for $100 from Buck's Global Survey Resources, 500 Plaza Drive, Secaucus, NJ, 07096-1533. Telephone 800-887-0509.
Media Contact:
Ed Gadowski
Media Relations
Buck Consultants
201-902-2825
Edward.gadowski(at)buckconsultants.com
This press release was distributed through eMediawire by Human Resources Marketer (HR Marketer: http://www.HRmarketer.com) on behalf of the company listed above.
###