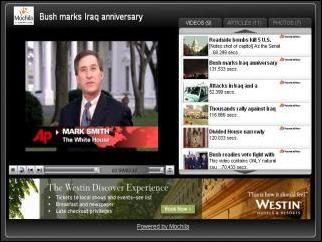 Mochila's multi-media player is a powerful and unique opportunity for web publishers to instantly make their websites more valuable
New York City, NY (PRWEB) April 20, 2007
Mochila (http://www.mochila.com), the first global online media marketplace for print, audio, video and photo content, is announcing the simultaneous launch of its innovative multi-media content player and the availability of video content to Mochila members, it was announced today by CEO Keith McAllister.
The AdMatch Player is a branded multimedia component where members and end consumers can watch videos, view photo slideshows and read articles. Mochila's AdMatch Player's launch video partners represent many of the leading content providers in the world, including: multimedia content from The Associated Press with video clips and asap features, blipTV.com, EFE, Ford Models, The Health Central Network, ITN Source, Lonely Planet, MeeVee, Mobi Jokes, Red Herring, Rodale, ShermansTravel.com, SmashTube, South China Morning Post, Tiempos Del Mundo, and Vibe Media Group. Information on each video provider is at the end of this release.
Mochila is the world's only syndication service that allows publishers of magazines, newspapers, wire services, and web sites to buy and sell print, photo, audio, and video content à la carte and on-demand with each other on its web site. Mochila provides simple but powerful tools for content sellers to set licensing rules, including pricing, embargoes, exclusions and other business terms. Members choosing the Mochila AdMatch ad revenue-sharing service can acquire the best content in the world for free with advertising revenue split among the buyer, the content owner, and Mochila.
Web publishers can use the player to create a highly relevant browsing experience for their users. The player is simple to create. Web publishers use search filters to determine what content and which sources they want and Mochila provides the player for instant publishing. Mochila's player is unique because it enables web publishers to choose content types--video, text, imagery, or all three--and create a dynamic feed from Mochila's vast repository of the world's best rights-managed content. Mochila's global membership is comprised of nearly 400 media organizations and continues to grow rapidly.
Mochila's AdMatch Player is one of a suite of Mochila AdMatch products which enable the free acquisition of great content and instant revenue generation for web publishers. And with the addition of video, Mochila members now have one-stop shopping for video, text, and photos.
"Mochila's multi-media player is a powerful and unique opportunity for web publishers to instantly make their websites more valuable," said CEO Keith McAllister. "Mochila's multi-media player gives web publishers the ability to create custom presentations of some of the world's best video, text, and image content and the player is free and generates ad revenue."
Ads for Mochila AdMatch, including video, are supplied by ad network partners 24/7 Real Media, Quigo, Tacoda and Broadband Enterprises.
All Mochila services are also available to Spanish-language media around the world via Mochila Español.
Mochila, the world's first and only online media marketplace, where members can Buy, Sell, and Earn.

Associated Press - content includes video clips covering national, international, entertainment, technology and business news, and features from asap, AP's unique, provocative, smart and creative multimedia news service.
BlipTV (http://www.bliptv.com) makes relationships with top talent and bring the best and brightest in short video, film and webisodic series. Blip TV is also a leading brand in the emerging video mobile market.
EFE is a leading Spanish language news agency and the fourth largest news agency in the world, with more than 60 years of experience which guarantee its impartiality, its power, its credibility and its immediacy.
Ford Models is the leading agency for models and artists globally, representing talented individuals worldwide for more than 60 years.
The HealthCentral Network, Inc. has a collection of owned and operated Web sites and multimedia affiliate properties providing timely, in-depth, trusted medical information, personalized tools and resources, and connections to a vast community of leading experts and patients for people seeking to manage and improve their health.
ITN Source is the gateway to the world's largest collection of moving image libraries. From news to drama, celebrity, comedy, quirky, wildlife and film, to inspirational stock footage, ITN Source is the most diverse professional video content provider in the world.
Lonely Planet is the world's most successful independent travel content publisher.
MeeVee is the first online destination to bring together traditional TV listings and online video from hundreds of sources in one place.
Mobi Jokes provides high quality, highly produced short funny joke films.
Red Herring is a global media company which unites the world's best high technology innovators, venture investors and business decision makers in a variety of forums: a leading innovation magazine, an online daily technology news service, technology newsletters and major events for technology leaders around the globe.
Rodale (Prevention / Men's Health / Runner's World) - As the authoritative source for trusted content in health and wellness worldwide, Rodale reaches more than 70 million people through multiple media formats, including category-leading health and wellness lifestyle magazines, books, as well as videos, integrated marketing solutions and online.
ShermansTravel, LLC is a leading publisher of top travel deals and destination advice.
SmashTube is a premier online entertainment studio that specializes in creating and producing short form, episodic content for the Internet and mobile devices.
South China Morning Post is the leading English language newspaper in Hong Kong and has the city's most affluent and influential readership.
Tiempos Del Mundo is an international Spanish language newspaper published in 19 countries and reaching Latin American decision makers as well as key Hispanics in the United States.
Vibe Media Group is a leading music/lifestyle media company that publishes the award-winning VIBE magazine, the preeminent brand in urban and music culture, which was founded by Quincy Jones in 1993 and today boasts a circulation of over 800,000 and a readership of approximately13 million. Additional properties include VIBE VIXEN magazine, which reaches over 4.5 million women; vibe.com; VIBE video-on-demand channel; The VIBE Awards, the wireless content service mVibe and VIBE Books which published the NY Times bestseller "Tupac Shakur."
###