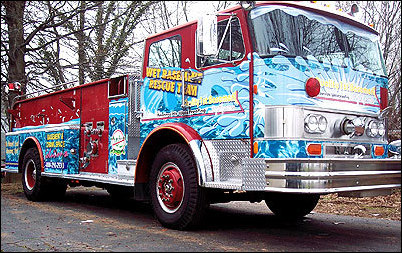 I'm a fireman at heart and have always wanted to own an engine, so when one came available I jumped at it.
Perth Amboy, NJ (PRWEB) April 21, 2007
Quality 1st Basement Systems, a New Jersey basement waterproofing contractor, donated ten high quality, cast-iron Zoeller sump pumps to the Emergency Relief Fund of the Fair Lawn Borough in Bergen County, New Jersey. Fair Lawn Borough received almost nine inches of rain during the recent northeaster and the damage to Bergen County as a whole has been estimated at $300 million, as reported by North Jersey Media Group.
New Jersey was placed in a state of emergency on Monday April 16, 2007, and more than 2,600 residents were evacuated. Courier News reported that up to 40,000 people were without power. Fair Lawn Borough is not expecting to see water levels drop significantly until Thursday at best, with the river four feet or more above flood levels.
Quality 1st Basement Systems co-owners Bob Cherry and Tom Roman started their basement waterproofing business in 1990. "We wanted to help the residents of our county, and the Emergency Relief Fund gave us a way to do this," Cherry said. "Hopefully the Emergency Relief Fund can put these to use right away."
"These [sump pumps] should help some people get their wet basements clear of water so they can start with the cleaning process," added Roman, a former New Jersey fire fighter who maintains close ties with his former brotherhood, including privately owning a retired fire engine that they will deliver the sump pumps in. "I'm a fireman at heart and have always wanted to own an engine, so when one came available I jumped at it."
Quality 1st Basement Systems is the authorized Basement Systems dealer in northern New Jersey, including Bergen, Passaic, Hudson, Essex, Morris, Union, Somerset, Middlesex, Monmouth, and parts of Ocean, Warren and Hunterdon counties. They are a "Top 5" Basement Systems dealership out of a network of 200 dealers.
"Basement Systems only picks the best basement waterproofing contractors in each region of the country to distribute their products," said Richard Fencil, marketing coordinator for Basement Systems Inc., the manufacturer and distributor of basement and crawl space waterproofing materials. "In New Jersey, the Bronx, and Staten Island New York, Quality 1st Basement Systems is an example of the integrity, generosity, and community spirited company that we like to work with."
###