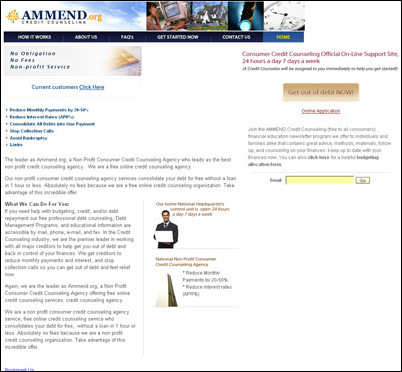 We are striving to offer a unique and one-of-a-kind approach to helping consumers out of debt as quickly as possible.
Cincinnati, OH (PRWEB) April 20, 2007
$9,200. This is the amount of credit card debt looming over the heads of the average American household. It is no secret that Americans are getting themselves increasingly into unmanageable and overwhelming debt situations. And, with the new bankruptcy laws passed, filing for Chapter 7 or 13 is either not an option or exceptionally more difficult. This is why the non-profit organization, America Money Management Experts for a New Direction, worked hard to bring Americans a no charge solution to their debt problem that doesn't include filing bankruptcy--new no fee debt management credit counseling services available 24 hours a day, 7 days a week.
The credit card debt counseling is available online and backed by 24/7 support of experienced debt counselors. Applicants may also apply online at ammend.org and receive their personalized and confidential results in one hour or less.
Credit Counselor Scott Darren explains, "We are striving to offer a unique and one-of-a-kind approach to helping consumers out of debt as quickly as possible." With over 15 years of debt management and credit counseling experience, AMMEND Credit Counseling ensures that their clients receive the very best of credit counseling, budgeting, and debt consolidation services. Helterbridle highlights, "We are here to provide no charge debt help to all consumers in America."
Individuals and families simply use the online application form at ammend.org to apply. Then, AMMEND counselors work with the creditors directly to arrange an optimal payment agreement. This often means that creditors will sometimes waive late fees, over-limit fees, re-age the balance due, or reduce/remove the added interest rate. Once these arrangements have been made, AMMEND collaborates with the individual or family to schedule a specific date each month to make only one payment that will go towards the now consolidated debt. And, the individual no longer has to deal with hassling creditors' calls because AMMEND counselors are now the primary contact for the creditors.
This bankruptcy-free solution is not only easy, but also beginning to be more and more popular considering that creditors have recently raised their interest rates and minimum payments required each month. The result is that families that were struggling before to make their minimum payments are now forced to make a decision of which bills to pay with their available funds, or worse, file for bankruptcy. AMMEND debt management credit counseling services provide an alternative that is simple and bankruptcy-free. The counselors will also help with budgeting to plan for a debt-free future.
To learn more about no fee credit card debt counseling and consolidation, please visit ammend.org.
About AMMEND Credit Counseling:
AMMEND Credit Counseling is a non-profit organization that is dedicated to helping individuals and families get out of debt. AMMEND is funded through contributions by both creditors and community-minded individuals. This is how AMMEND is able to provide a comprehensive, personal credit counseling and debt consolidation service entirely with no fees.
###