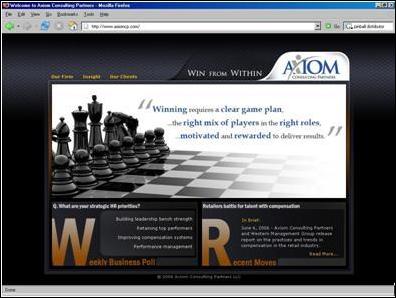 Axiom is delighted to be releasing this important piece of thought leadership
Chicago, IL (PRWEB) April 20, 2007
Axiom Consulting Partners LLC announced today that it has released the first in a series of 'Winning Axioms' titled 'Superior Mobilization of People is the Key to Closing the Gap Between Strategic Intent and Results'
Axiom was founded in 2005 on the premise that there are certain self-evident truths in business to which companies should pay close attention if they are to be successful in today's competitive environment. These self-evident truths (or axioms) are applicable in virtually all industries and companies, regardless of their size.
The 'Winning Axioms' will provide senior executives and leaders with insights and ideas that can be applied to help their organizations deliver superior results. 'Winning Axiom #1' draws attention to the fact that in excess of 75% of companies' market capitalization is now attributable to intangibles, the bulk of which are people and knowledge related. Recognizing that this is true, organizations now have a tremendous opportunity to close the gap between their strategic intent and the results they achieve through better mobilization of their most important intangible asset – their people.
"Axiom is delighted to be releasing this important piece of thought leadership" said Steve Strelsin, President – Axiom Consulting Partners. "Our clients tell us again and again that their ability to execute effectively is directly related to how well their people are mobilized. We have developed a practical three step process that can enable any organization to move down the path of superior execution and begin to deliver on the increasingly high expectations of their stakeholders."
Winning Axiom #1 is available at 'Superior Mobilization of People is the Key to Closing the Gap Between Strategic Intent and Results'.
About Axiom Consulting Partners
Axiom Consulting Partners is a management consulting firm that specializes in hardwiring people to business strategy to deliver improved performance and results. Axiom asks the right questions to uncover and remove disconnects that commonly exist among the boardroom, middle management and front line employees. Axiom's partners generate insights and develop recommendations for their clients that have a quantifiable business impact.
This press release was distributed through eMediawire by Human Resources Marketer (HR Marketer: http://www.HRmarketer.com) on behalf of the company listed above.
###