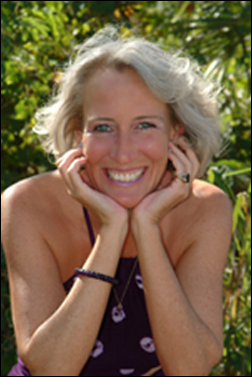 Everything that is coming to me is a tempering force to refine my personal evolution
San Francisco, CA (PRWEB) April 21, 2007
Vaishali, the popular radio talk show host (http://contacttalkradio.com/hosts/vaishali.htm) and author of "You Are What You Love," (http://www.purplev.com) appears on "A View from the Bay," on ABC Television, Wednesday, April 25, 3-4pm, P.S.T. http://abclocal.go.com/kgo/index?section=viewfrombay&id=4213611.
Posing the question, "Is your mind your best friend or your worst enemy?" Vaishali will show viewers how to turn around personally painful life experiences and let go of limiting personal beliefs. A compelling teacher of universal wisdom, she will also touch upon the "seed of transformation" that is inherent amidst the worst of tragedies, such as the recent shooting rampage at Virginia Tech that shocked the nation.
"Within all suffering are huge transformational seeds of growth. It doesn't matter if the suffering happens to you personally or collectively, there is a transformational seed of growth within all experiences," says Vaishali, whose own life experience includes:
1) Having been born with a birth defect which left one of her eyes turned inward so that only the white part of the eye faced outward;
2) Having been taunted by children and called, "cyclops," throughout her school years and into her teens;
3) Having experienced the trauma of discovering that her beloved third grade teacher, who had taught her to read and write and speak properly, had been violently murdered;
4) Having endured amnesiac shock for two years following that killing;
5) Having been diagnosed as being terminal twice in her life, the results of a car injury and an illness;
6) Having been betrayed and cheated on in almost every romantic relationship in her life;
7) Having teetered on homelessness and bankruptcy.
"I have experienced the smorgasboard of suffering; I've experienced suffering on parade," says the author, "but I've turned it all around. Not only do I embrace, adore and respect life for the gift that it is, I have not allowed any of this to crush my spirit."
Key to her perspective is the belief that we cannot create a learning experience that we does not need. "Everything that is coming to me is a tempering force to refine my personal evolution," says Vaishali. "If it touches my life, it's working for me, because if it wasn't working for me, it would not be allowed to touch my life."
In her "View from the Bay" interview, Vaishali will talk about the invitation that is available for society to collectively embrace and support one another when personally traumatic or unforeseen national tragedies - like the disappearance of Natalie Holloway in Aruba, or the horror at Virginia Tech - happen.
"Tragedies are opportunities for us to live as one," says Vaishali. "This is our post 911 maturity. We are more mature now, more focused. Our collective response is to wish each other well and be there for each other in a way that improves us as a people and as a culture. Is the suffering there? Yes, we can acknowledge that. But at the same time, let's claim the gift for us to be better, stronger, wiser, more loving, compassionate people. Let's not disenfranchise ourselves from this gift."
Vaishali appears on "A View from the Bay," ABC, Wednesday, April 25, 3-4pm, P.S.T., which can be viewed at http://abclocal.go.com/kgo/index?section=viewfrombay&id=4213611.
Her additional Bay Area appearances include: 4/20/07 Book Passage, 7pm - 9 pm, Corte Madera, 415-927-0960; 4/21 - East West Bookstore, 7 - 9 PM, Mountain View, CA 650-988-9800; 4/24 - The Learning Annex - San Francisco 6:45 pm - 9:30 pm, 'You Are What You Love; The Law Of Attraction Made Easy,' Course 974JSF, Section A (415) 788-5500; 4/26 - Fields Book Store 8 pm - 10 pm San Francisco, CA (415) 673- 2027; 4/27- 4/29 New Living Expo, Concourse Exhibition Center, San Francisco, Lecture: 12PM - 1 pm, booth #548 and "Anti-Aging Panel"- 5pm room 3; 4/30 - Barnes & Noble 7:00-9:00pm, 1725 Arden Way, Sacramento, CA, Contact: Laini Harris (916) 565-1066; 5/1 East West Books, 12:30-2:30pm, White Rose Light Center, 2216 Fair Oaks Blvd., Sacramento, CA 95825, to order tickets, call 916-965-7751 or got to
http://www.balancedlifemagazine.com, cost $45.
###