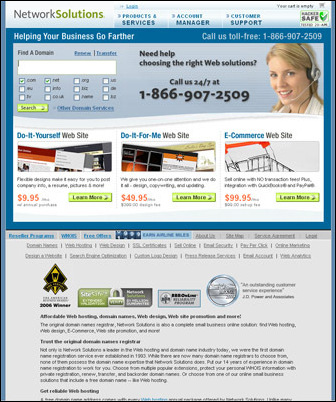 Based on customer feedback and testing, we've put a lot of thought and effort into enhancing ImageCafe to make the process of building and editing a website an intuitive and enjoyable experience for our customers
Herndon, VA (PRWEB) April 24, 2007
Small business owners hesitant to launch an online business due to a lack of time or technical know-how have a new tool in their utility belts. ImageCafé® Web Site Creator, the easy to use Web site building tool from Network Solutions, is enhanced with the latest in user-friendly click and drag features, making it not only possible, but simple, for users to build a good Web site within a few hours time.
The enhanced ImageCafé is a Web-based application designed to accommodate users with little time and/or technical skills and requires no new software to install or download. Its versatile design features make it a standout among easy Website building tools for small and medium sized businesses that need striking, attention-grabbing sites. The new click and drag interface greatly reduces the time it takes to setup, design and edit a site by simplifying the ability to move text and images. Users can quickly and easily try many different page layouts and configurations to determine what looks best for their website.
"Based on customer feedback and testing, we've put a lot of thought and effort into enhancing ImageCafe to make the process of building and editing a website an intuitive and enjoyable experience for our customers," explains Jeff Grosman, Senior Vice President of Product Marketing and Management at Network Solutions. "Our new click and drag functionality really makes it easy to get started and create a professional looking website within just a few hours -- but it's also a robust product that can grow along with the businesses and it's future online needs."
Other notable updates to Network Solutions' easy Website building tools include a helpful column-building tool to make sites more appealing and easy to navigate, a password protection feature that makes restricting specific pages quick and easy to implement, PayPal® "Buy Now" buttons, and thousands of new royalty-free images to choose from. User guides and interactive tutorials are included to illustrate how to build a good Web site, and Network Solutions award-winning 24-hour customer support is available free, both online and via toll-free phone.
Network Solutions offers a 30-day free trial of Image Café. For more information about this free trial, please visit the free Image Café Test Drive. To learn more about ImageCafé Web Site Creator and how to build a good web site, please visit networksolutions.com.
About Network Solutions:
Network Solutions, a leading provider of Web solutions and online tools for small businesses, offers a full range of Web-related services that include Web hosting, Web design, e-commerce software, search engine marketing, SSL certificates, e-mail services and domain name registration. Network Solutions is committed to making it simple and affordable for customers to build and manage an online presence with one-stop Web solutions.
###