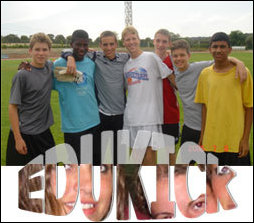 Obviously it's a great honor to work with Wanderers FC through our Soccer school England
Bolton, Lancashire, England (PRWEB) April 23, 2007 -
A leader in soccer training and education abroad, Edukick, has partnered with professional English football club, Bolton Wanderers FC, to provide cultural studies and elite training in English soccer school, The Bolton Wanderers FC International Academy Program.
EduKick's summer camps and this soccer school in England will be hosted by this established English Premiership Professional Football Club. The Premiership is the world's most watched sporting league. Known for harnessing the excitement of international soccer in its comprehensive soccer training programs, EduKick was a natural partner for the Bolton Wanderers Academy.
"Obviously it's a great honor to work with Wanderers FC through our Soccer school England," said Joey Bilotta, president of EduKick Inc. "Training daily at their professional facilities and under their technical coaching staff is a dream come true for EduKick students from around the world."
EduKick will offer several innovative English soccer camps and a year-round English soccer school in Bolton near Manchester and Liverpool. Through EduKick, young soccer players can experience English culture, hone their English language skills, and develop their soccer expertise. Native English speakers are also welcome to apply by enrolling in the program's Football Studies Course.
Players at the English soccer camps and soccer school will train and engage in competitive play weekly.
Training with EduKick and BWFC coaches focuses on:

Physical conditioning
Mental strategy
Technical skill
At EduKick's Soccer School in England student players with exceptional talent could achieve international soccer stardom. EduKick-Wanderers soccer school participants are scouted by the Bolton Wanderers FC Academy technical coaching staff.
With the help of the Bolton Wanderers FC, EduKick England's soccer school and camp is set to draw elite youth players from around the globe.
To learn more about EduKick and Wanderers FC Academy or to enroll in EduKick's Soccer School England, visit http://www.edukick.com/soccercamps.asp?cat=130.
About Edukick, Inc.
Edukick's mission is to provide intensive soccer training programs that also teach youngsters about cultural diversity and foreign languages. As professionals, soccer fanatics and fathers, Joseph Bilotta and Corey Zimmerman wanted to create a program that maximized the EduKick youth's time abroad; instilling a sense of independence and pride through experiencing international travel, structured language study, cultural excursions, and professional soccer training.
Http://xeal.com [Xeal Precision Marketing press release services]
###