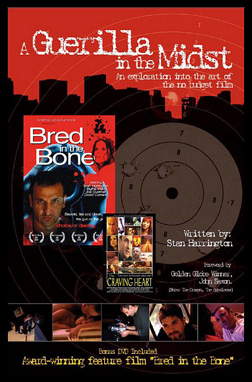 WHAT CAN GO WRONG WILL GO WRONG
Hollywood CA, (PRWEB) April 24, 2007
Released by The Sundance Media Group/VASST, "A Guerilla In The Midst", by Stan Harrington offers an insight into the world of no-budget film making using his first feature "Bred in the Bone", as a blueprint. In this inspirational book, the multi-award winning Harrington guides us through the method and the commitment needed to complete, not just a project, but a thought-provoking and valuable motion picture. As a bonus, a copy of "Bred In The Bone" will come with each copy.
"Bred In The Bone" won 4 awards including Best in Show and Best Feature and was shot on a SAG budget for a mere $5,000. His follow up, "The Craving Heart" shot for $8,500, in it's first two festivals, has already garnered 17 nominations and 8 wins including Best Director, Best Feature, Best Screenplay, Best Actress, and Best Supporting Actor.
Reviews regarding the Craving Heart…
A resonant depiction of human desire and interaction. This is an example of independent cinema at it's most solid, proof that you don't need a sizeable budget to create a film of worth and intelligence."
-- Todd David Schwartz, CBS
"The Craving Heart is definitely one of those films that has to be seen twice. ...Masterfully concocted...Harrington's paranormal revelations in The Craving Heart are done in such a sensitive, subtle way that their unexpectedness far surpasses anything Shyamalan could ever possibly conceive of..."

Mitch Persons, Sirens Of The Cinema.
In January 2007, impressed by Harrington's writing skills, Federico Lapenda, CEO of Paradigm Entertainment Group, acquired his screenplay entitled "FIGHTER". about a major, mixed martial arts event that will showcase some of the biggest names in the MMA fight world today!!! http://www.variety.com/article/VR1117925410.html?categoryid=1238&cs=1&s=h&p=0
Described as "Email Challenged" Stan's story of success originally caught the attention of The Sundance Media Group and SONY (SMS) and was consequently invited to give seminars at NAB and The Self Employment In The Arts Conferences. Following the success of these speaking engagements, Harrington now imparts his invaluable experience in the form of a paperback. Captivating chapters that begin with an insightful foreward by movie icon, John Saxon (Enter The Dragon, The Appaloosa). include, "WHAT CAN GO WRONG WILL GO WRONG", "USE INK, NOT CURRENCY" and the motivational, "FOR STARTERS FINISH!"
"Finishing it never seems to be a problem for Harrington…If there is one thing we can understand, appreciate and learn from Stan Harrington's story is that great talent can indeed win over a great budget."
-Carolyn Firestone, Hollywood Scriptwriter Magazine
Originally released at NAB2007, the book can now be purchased online at http://www.vasst.com and at The Samuel French Book Store, Hollywood. At only $29.99 for the book and the feature, this book serves as an essential addition to any independent filmmakers library.
###