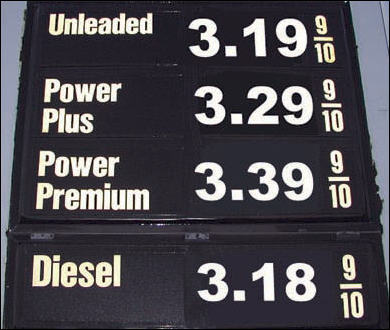 with every vehicle in their fleet, giving them insight into these areas of their operation that were previously hidden
Salisbury, MD (PRWEB) April 24, 2007
As gas prices continue to soar, small business owners with mobile workforces are faced with a dilemma: how to maintain their profit margins without sharing the burden of higher fuel costs with customers?
Navtrak, Inc., the leading provider of GPS-based mobile workforce management tools, offers business owners a proven solution that can significantly reduce fuel costs and dramatically improve overall mobile workforce productivity and efficiency.
"Higher fuel costs impact every business - large or small, with vehicles on the road," notes Navtrak CEO Ron Hodges. "So you have to ask yourself, as a business owner, how am I going to deal with those costs, and how is my competitor across town going to deal with it? The smart business person will take the initiative to improve his own productivity first, so that by reducing his operating expenses, he can avoid passing along higher fuel costs. And by doing that, he keeps his customers."
Navtrak was founded by Mr. Hodges, who has been delivering mobile workforce productivity solutions for over 28 years as CEO of several successful and innovative messaging and two-way communication companies. Hodges emphasizes Navtrak's unique combination of software, web-based reporting and on-board hardware, which provides the fleet manager or dispatcher with the ability to pinpoint and correct driver issues such as inefficient routing, poor driving techniques (speeding, extended idle times), and unauthorized use of company vehicles.
Mr. Hodges cites government data that illustrate how a GPS system, when implemented to simply monitor speeding and idling, can offer an immediate ROI:
EPA data states that gas mileage usually decreases rapidly at speeds above 60 mph, and that as a rule of thumb, you can assume that each 5 mph you drive over 60 mph is like paying an additional $0.20 per gallon for gas.
Additionally, according to the DOT, an average a truck burns .9 gallons of fuel per hour idling. So a typical owner with 5 vehicles idling for about 1 hour a day is wasting 4.5 gallons of fuel each day. At an average fuel cost of $2.95 per gallon, that's $13.41 a day, $93.87 a week and $4,894.65 a year.
"Our product enables business owners to virtually "ride along" with every vehicle in their fleet, giving them insight into these areas of their operation that were previously hidden," adds Hodges. "For just a few dollars a day, we can tell you everything about your vehicle's activities, in real-time, all the time. And we provide the tools to help owners finally - and affordably, take control of their mobile workers and assets"
Navtrak's innovative fleet management system, which includes its Street Suite 4.0™ vehicle tracking software, access to Navtrak's Web Reports 4.0™ online reporting center, and an in-vehicle Mobile Manager™ GPS receiver, offers an unbeatable combination of state-of-the-art fleet monitoring, mapping and reporting tools for mobile workforces of all sizes.
About Navtrak
Navtrak, Inc., located in Salisbury, MD, is the industry leader in providing GPS tracking systems, fleet management solutions and car tracking devices for businesses with mobile workforces. Founded in 1999 and now serving thousands of customers across the country, Navtrak is committed to Driving Business Productivity™ with valuable, real-time fleet tracking, reporting and communication tools that improve efficiency and enhance customer service. For more information, please email or call us at 800.787.2337.
###