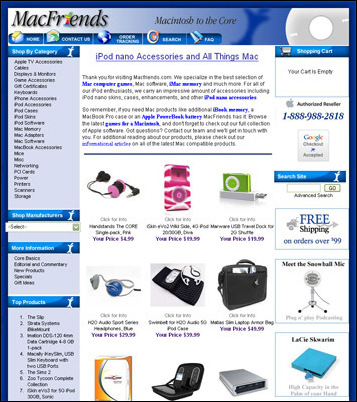 MacFriends is proud to offer the SoundMate-- another unique quality product that compliments our iPod Accessories line.
Lafayette, LA (PRWEB) April 24, 2007
United States iPod enthusiasts will be happy to know that they will now be able to get their hands on the latest addition to the realm of cool iPod cases--the SoundMate. Thanks to a new partnership with Sandbar International Corp., MacFriends.com will be the exclusive US distributor of the SoundMate. What sets the SoundMate apart from other iPod accessories and cases is that this protective case also has an embedded speaker that is ideal for travel and other scenarios. The Soundmate comes in five assorted colors with a stylish leather-like finish.
Owners of the SoundMate will be able to listen to their music anywhere they go without the burden of earphones or bulky iPod travel speakers. And, the speaker is made with the same patented flat panel technology found in flat screen televisions and other technologically advanced consumer electronics. The SoundMate is ideal for outdoor activities, since the zippered protective case is also designed to guard against UVA/UVB rays, water, extreme heat or cold, sand, dirt, dents and scratches.
President of MacFriends, Inc., Richard Sarver, is very pleased with the result of the Sandbar International Corp. partnership, "MacFriends is proud to offer the SoundMate-- another unique quality product that compliments our iPod Accessories line." The rugged SoundMate will be a great addition to the already large collection of cool iPod cases found at MacFriends.com. iPod owners may also find other iPod accessories exclusively carried by MacFriends.com, like the extremely popular Slipstreamz Slip and the iBikeMount.
President of Sandbar Corp., Bill Monroy, advocates the exciting new partnership and its implications, "MacFriends is the perfect partner to offer the SoundMate to iPod users via their website. MacFriends.com is an ideal location for the SoundMate because their website is very user-friendly, so we know that SoundMate shoppers will have a satisfying E-Commerce experience."
SoundMate is made by the Sandbar International Corp. and uses patented flat panel speaker technology from NXT Sound.
For more information on the SoundMate and other iPod speakers and accessories, please visit MacFriends.com.
About MacFriends, Inc:
Co-founded by two Mac advocates, Richard Sarver and Ben Hampton, MacFriends, Inc. is the comprehensive headquarters for all things Macintosh. In addition to cool iPod cases, MacFriends.com also offers a wide range of Macintosh accessories and products, from Apple TV accessories to Macintosh Software to MacBook accessories. The company began in 1993 and has been providing excellent product options coupled with hands-on customer service to Mac and iPod users across the US. MacFriends, Inc. is headquartered in Lafayette, LA.
###