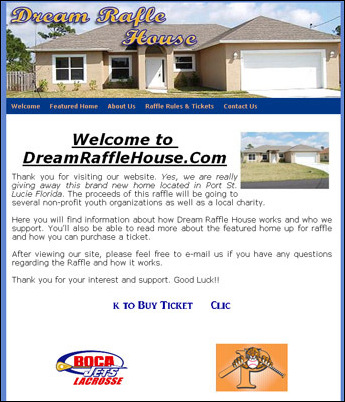 Pompano Beach, FL (PRWEB) April 24, 2007
Beautiful, sunny Florida is place that most people can only dream of owning a vacation home in. That dream has become a little bit more feasible now, thanks to the organizers behind DreamRaffleHouse.com, where anyone is invited to participate in an online raffle for a brand new home in the up and coming Florida city of Port St. Lucie. And, all of the proceeds of the house raffle will go to non-profit youth sports programs and charity.
Each raffle ticket costs $100 and can only be purchased online at DreamRaffleHouse.com. The drawing will take place online on June 19, 2007, with the winner(s) being notified via email. Depending on the number of tickets sold, there will also be monetary prizes ranging from $500 - $2,500 for 2nd -10th place, as well.
The proceeds will primarily benefit the Boca Panthers Travel Baseball, which is a competitive youth baseball program that was established in 1997. A major component of their surrounding community, this baseball program helps build the skills and confidence of 8-16 year old boys. The raffle is designed to aid the team and their expenses so that every boy, regardless of financial situation, will be able to participate in the baseball program.
Jeff Snyder, spokesman for the Boca Panthers, explains, "With all of the traveling expenses related to this program, some of the families simply cannot afford it. This is what some of the money will go towards. We want everyone to be able to participate in our program and receive the training that helps our local boys develop their skills."
Along with the Boca Panthers program, the house raffle proceeds will also be donated to the Boca Jets lacrosse team and the National Parkinson's Foundation. Snyder points out, "Our goal with this raffle is to help out the Boca Panthers and these other organizations with their extremely high costs. We believe that by supporting local youth sports programs, we are contributing to training our children to be well-rounded members of society. Not only do they learn the value of teamwork, but also gain self-confidence as well."
The raffle home is a spacious 4 bedroom, 3 bathroom house with grand features such as cathedral ceilings, a whirlpool tub, and granite countertops. Located in Port St. Lucie, which was voted one of the most up and coming cities in the country, the raffle house is just north of Palm Beach.
To obtain an online raffle ticket, please visit DreamRaffleHouse.com.
About Boca Panthers Travel Baseball:
A non-profit organization, the Boca Panthers facilitate competitive youth baseball for boys 8-16 years old. They have been supporting the West Boca area since 1997.
###