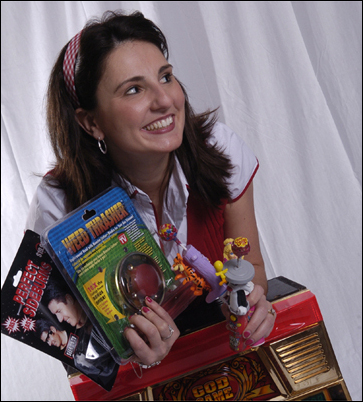 Pittsburgh, PA (PRWEB) April 25, 2007
With the second-season premiere of ABC's "American Inventor" on June 6th, the country will once again be introduced to a group of everyday inventors vying for a million-dollar prize. But while that series thrusts a select few inventors into the television spotlight, the majority of other average janes and joes pursue different avenues to get their new ideas in front of companies. Many of these inventors choose to exhibit their inventions at INPEX®, America's Largest Invention Trade Show.
INPEX®, held June 6-9th in Pittsburgh, features a wide variety of inventions from across the country -- most of them conceived by regular people as solutions to common problems encountered at home or work. Here is a small sampling of the hundreds of "American" inventors who will be exhibiting inventions at INPEX® 2007:

Owen Baser from California designed the Base Door Handles to make it easier to open doors in his house with his hands full
Kyrsten Braun from Minnesota created PillowNotes as a convenient way to write down those sudden thoughts or ideas that occur in the middle of the night
Raymond Killen from Pennsylvania invented the Cham Easy -- The World's Fastest Chammy™ to dry the surface of his vehicle without leaving any spots, streaks or lint
Luis Picado, a pizza chef from New Jersey, developed the Sicilian Edger to help him cook Sicilian pizzas more quickly, safely and easily
Now entering its 23rd year, INPEX® offers a place for inventors to display their inventions and meet with industry representatives interested in licensing, marketing or manufacturing new product ideas. Some of the companies conducting corporate panel reviews at this year's INPEX® include Hasbro, Everlast®, The Robert Bosch Tool Corporation, Office Depot, Wahl Clipper Corporation and the Electronic Retailing Association. Along with a large catalog of inventors and inventions, INPEX® also offers their very own Gadget Girl as a handy resource on all things invention. Available for interviews, Gadget Girl is a lively and knowledgeable authority on all sorts of new products and innovations.
For additional information about INPEX®, Gadget Girl or any of our inventors, please contact Gia DelliGatti at (800) 424-2089, x 4163.
INPEX® is sponsored by InventHelpsm, America's leading inventor service company. For more information about INPEX® visit inventionshow.com
. Learn more about InventHelp and their Invention Submission services at Inventhelp.com
.
# # #