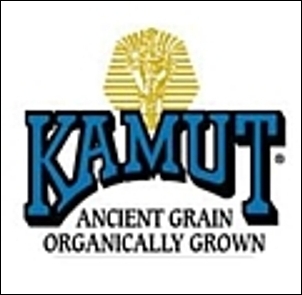 Chicago, IL (PRWEB) April 24, 2007
What: Sales of delicious and nutritious Kamut® grain products increased almost 13 percent globally in 2006, according to the Montana-based Kamut® Association. There was strong interest in the ancient grain in both the U.S (12% growth) and Europe (14.9% growth), with Italy alone accounting for 2/3 of all European sales. Kamut® may only be grown organically worldwide under a licensing agreement.
At their All Things Organic booth, the Kamut® Association will showcase and provide samples of fine Italian products made with the grain, demonstrating its fine quality and versatility. Products that are being made with Kamut® grain include breadsticks, cookies, couscous, numerous types of pasta, pies, seitan (meat substitute), and even coffee and milk! Delicious and nutritious Kamut® products from other countries will also be highlighted.
A Kamut®-based paella dish will be served as part of the Organic Trade Association's Annual Dinner May 7, introducing thousands of buyers, retailers and other decision-makers to the delicious and nutritious grain!
Where: Kamut Association Booth 342, All Things Organic Conference and Trade Show, McCormick Convention Center, Chicago, IL.
When: Sunday through Tuesday, May 6-8, 2007.
Background: Kamut® (Kә-mooť) is a registered trademark used to market an organically grown ancient relative of modern durum wheat. In the ancient Egyptian language the term means wheat. Kamut® grain is twice the size of durum wheat and has higher nutritional value. Specifically, it has more protein and is higher in vitamins (vitamins B1, B2 and E, and niacin) and minerals (iron, magnesium, phosphorus, selenium and zinc). Because of the soil in which it is grown, Kamut grain provides 100% of the daily recommended intake for selenium in 2 to 3 servings. Kamut® wheat is an ancient grain grown mostly in Alberta, Saskatchewan, and Montana.
Kamut® grain products also rank low on the glycemic index. Low glycemic foods are very important for diabetics, dieters and athletes who look for foods that do not stimulate insulin and fat-storage.
Sixty-six percent of Kamut® products are sold in Europe The remaining 34 percent of sales are split approximately equally between U.S. and Canada. Currently, Kamut products are being introduced into Australia and Japan.
###