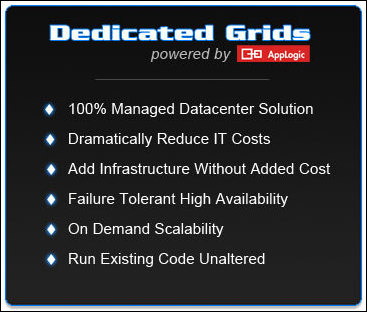 With utility computing and virtualization taking hold as a viable IT solution, the early adopters stand to benefit the most through dramatic reduction of deployment and management costs and a shorter path to market
El Segundo, Calif. (PRWEB) April 25, 2007
Today NetLab Inc announced the launch of its Grid Evaluation Program (GEP). The GEP provides businesses and developers an introduction to the AppLogic grid environment and the advantages that can be found with the adoption of virtual infrastructure. Participants experience first hand the power of creating, managing, and scaling virtual infrastructure on their own Dedicated Grid using only basic IT skills and a web browser.
"With utility computing and virtualization taking hold as a viable IT solution, the early adopters stand to benefit the most through dramatic reduction of deployment and management costs and a shorter path to market," says NetLab CEO, Steve Harwood. "Our Grid Evaluation Program allows those who recognize these advantages an opportunity to see for themselves what can be achieved through virtual infrastructure and a Dedicated Grid solution."
Grid Evaluation Program Benefits

Zero costs - Dedicated Grid evaluation is offered free of charge to those actively seeking an AppLogic solution.
Full access to the AppLogic Grid Operating System.
Allocation of a private four server Dedicated Grid where you can build, deploy and scale infrastructure and applications.
Assistance from an AppLogic expert during the evaluation period.
High performance environment. Unlike the low performance server specs of platforms like EC2, our GEP Dedicated Grids are hardware optimized for utility computing using leading edge components.
Those interested in participating in the NetLab GEP can request an evaluation by filling out and submitting the online form found on the NetLab website. Note: Participation in the NetLab Grid Evaluation Program is subject to availability. Those interested are also encouraged to view the AppLogic materials found at 3tera's Grid University website prior to enrolling.
About Dedicated Grids
Dedicated Grids provide businesses and developers focused on web applications a comprehensive single vendor operations solution where they can assemble, deploy and scale applications and infrastructure on demand using only a web browser. Dedicated Grid solutions include Custom Infrastructure creation and around the clock management of your entire grid environment delivering a complete managed datacenter solution at a fraction of the cost.
About NetLab Inc
NetLab Inc. provides next generation grid hosting products and services. By leveraging a grid optimized network, industry leading bandwidth and a Tier 4 datacenter environment, NetLab's goal is to provide robust and innovative solutions to forward looking businesses and individuals seeking the distinct advantages of virtual infrastructure and utility computing.
3tera and AppLogic are trademarks or registered trademarks of 3Tera, Inc.
###