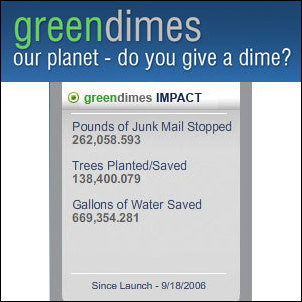 GreenDimes believes in empowering our members to do little things that collectively make a big difference in the world around them
Palo Alto, CA (PRWEB) April 30, 2007
Going beyond restoring the environment, GreenDimes -- a leader among socially conscious businesses -- announces their partnership with The United Nations Foundation and their Nothing But Nets campaign. Every time a person joins Greendimes, the company will fund the purchase of one bed net to combat malaria infection. The partnership will kick off on World Malaria Day, April 25th, with the goal of purchasing 5,000 malaria nets to help reduce the one million annual deaths from this devastating and preventable disease.
Every year, nearly 500 million people are infected with malaria. Bed nets are one of the most effective ways to prevent malaria and to fight the epidemic. GreenDimes is proud to join Nothing But Nets' founding campaign partners -- including the National Basketball Association's NBA Cares, The People of the United Methodist Church, Sports Illustrated, VH-1, AOL Black Voices, Rotarians' Action Group on Malaria, and Malaria No More -- in this effort to help address one of the most serious global health issues facing the world today.
"GreenDimes believes in empowering our members to do little things that collectively make a big difference in the world around them," founder Pankaj Shah explains. "We are very goal-driven and like to have measurable objectives so we can show people the impact they have together. Our junk mail reduction service gives our members control over their mailboxes and helps restore the planet. Through the United Nations partnership and contributing to the purchase of 5,000 nets, each GreenDimes member will help save lives in addition to planting trees."
Greendimes is a socially conscious consumer lifestyle company that helps individuals and businesses create social change through environmentally sound products and services. GreenDimes' premier service to reduce postal junk mail has already stopped 260,000 pounds of junk mail and planted more than 140,000 trees around the world.
GreenDimes
480 Lytton Ave, #8
Palo Alto, CA 94301
415.676.1689
Kendra @ greendimes.com
###