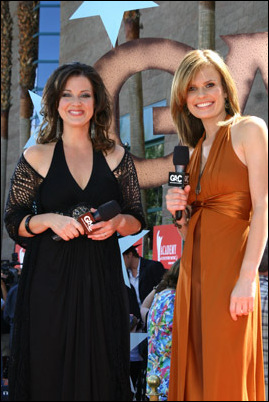 GAC delivers a connection to the stars
Nashville, TN (PRWEB) April 26, 2007
Great American Country network, where country music lives all the time, will once again be live on the "Orange Carpet" to catch the brightest stars of country music as they arrive for the 42nd Annual Academy of Country Music Awards. GAC's live 2007 ACM Pre-Awards Special begins May 15 at 7 p.m. ET outside the MGM Grand Garden Arena in Las Vegas.
GAC's 2007 ACM Pre-Awards Special will be the No. 1 place for fans to see their favorite country music artists and get the most up-to-date information as the artists stop by to chat with GAC hosts Suzanne Alexander, Nan Kelley and Storme Warren.
"GAC delivers a connection to the stars," said Sarah Trahern, senior vice president of programming for GAC. "The annual ACM Awards gala is country music's party of the year. It is only natural that GAC will be there to bring it home to the fans who cannot attend."
This marks the second consecutive year that GAC will host the LIVE pre-awards telecast that will feature country music's biggest stars and show viewers what their favorite performers are wearing, what they're thinking and how they're feeling as they arrive for the ACM Awards, which airs live on CBS that evening. GAC will be the only television network to provide live pre-show coverage.
GAC's live 2007 ACM Pre-Awards Special is the centerpiece of the network's coverage leading up to the ACM Awards presentation. (All times ET)

March 12-April 28: Academy of Country Music and GAC Present:… a nine-part special series highlighting each of the nine acts nominated for ACM Awards in the Top New Male Vocalist (Rodney Atkins, Craig Morgan, Chris Young), Top New Female Vocalist (Miranda Lambert, Kellie Pickler, Taylor Swift) and Top New Duo or Vocal Group (Heartland, Little Big Town, The Wreckers) categories. Hosted by GAC's Lorianne Crook.
May 3-9, 8 p.m. weeknights: The primetime show GAC Nights, hosted by Suzanne Alexander, will highlight music and news from ACM nominees.
May 7, 10 p.m.: Two-hour ACM Video Preview Special, co-hosted by GAC's Nan Kelley and featuring artists and music nominated for ACM Awards.
May 11, 8 p.m.: GAC's Storme Warren hosts a special one-hour edition of Country Music Across America devoted entirely to the 2007 ACM nominees.
May 11, 9 p.m.: GAC's Nan Kelley recognizes ACM Award nominees during a special edition of GAC's Top 20 Country Countdown.
May 12, 8 p.m.: GAC presents a special ACM-themed Grand Ole Opry Live featuring encore performances by ACM nominees including Carrie Underwood, Vince Gill, Kellie Pickler, Taylor Swift, The Wreckers, Big & Rich, Craig Morgan, Rodney Atkins, Josh Turner, Martina McBride and Little Big Town
May 15, 7 p.m.: GAC's LIVE 2007 ACM Pre-Awards Special welcomes the stars as they arrive on the Orange Carpet. Hosted by GAC's Suzanne Alexander, Nan Kelley and Storme Warren.
About the Academy of Country Music
The ACADEMY OF COUNTRY MUSIC, an artist and industry-driven organization, exists to produce a world-class network television awards show, and its associated events, to provide the financial resources to ensure the on-going philanthropic work of its Charitable Fund. Academy of Country Music Charitable Fund promotes and supports music education and humanitarian programs that transform the human spirit. Through its charitable donations, the ACMCF works towards two main goals: encouraging Learning Through Music and Healing Through Music. The Academy, which is comprised of more than 4,500 professional members and more than 40,000 associate members, was established in 1964 and is headquartered in Encino, Calif. For more information on the ACADEMY OF COUNTRY MUSIC AWARDS and the Academy of Country Music, please visit http://www.acmcountry.com.
About Great American Country
Great American Country is America's main street for the widest variety of country music, its artists and the lifestyles they influence. In addition to country music videos, GAC features original programming, special musical performances and live concerts, and is the exclusive television home of the Grand Ole Opry. GAC is available in more than 46 million households and online at http://www.GACTV.com.
# # #