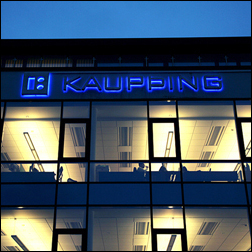 (PRWEB) April 27, 2007
Kaupthing Bank announced first quarter 2007 results. Highlights include:

Net earnings of ISK 20.3 billion (EUR 279 million)
Shareholders' net earnings increased by 7.9% compared with the same period in 2006.
Return on equity in first quarter of 27.6% on an annualized basis.
Earnings per share of ISK 27.4 in Q1 2007 - compared with ISK 28.3 in Q1 2006
Operating income of ISK 44.1 billion - increasing by 24.3% compared with the same period in 2006.
Net interest income increased by 55.1% compared with the same period in 2006.
Net fee and commission income increased by 43.4% compared with the same period in 2006.
Operating expenses of ISK 17.7 billion - an increase of 41.1% compared with the first quarter of 2006.
Total assets of ISK 4,198 billion (EUR 47.7 billion) at the end of March 2007, increasing by 10.1% at a fixed exchange rate from the beginning of the year and by 3.5% in ISK.
Hreidar Már Sigurdsson, CEO
"We have made a good start to the year and all the Bank's main offices have delivered solid results. Interest income and commission income have increased sharply which is a result of the hard work we put in last year to integrate activities across the group. We are especially satisfied to see the Bank perform so well in the UK. Earnings there have increased and the income base has broadened. The Bank is better placed than ever to achieve continued growth, and the outlook on our key markets is bright."
Further information
For further information on the results please contact Jónas Sigurgeirsson, Chief Communications Officer on +354 444 6112 or Ólöf Hildur Pálsdóttir, Investor Relations, on +354 444 6569. Information on Kaupthing Bank is also available on the Bank's website http://www.kaupthing.com.
About Kaupthing Bank
Kaupthing Bank is a northern European bank offering integrated financial services to companies, institutional investors and individuals. These services include corporate banking, investment banking, capital markets services, asset management and comprehensive wealth management for private banking clients. The Bank operates in ten countries, including all the Nordic countries, Luxembourg, Switzerland, the UK and the US. In addition the Bank operates a retail franchise in Iceland, where it is headquartered.
Kaupthing Bank is currently among the seven largest banks in the Nordic region in terms of market capitalization. Through sound organic growth and strategic acquisitions like the UK bank Singer & Friedlander in 2005 and FIH Erhvervsbank in Denmark in 2004, Kaupthing Bank has fortified its position to provide outstanding services to its client base in the UK, the Nordic countries and elsewhere in northern Europe. The Bank has 2,719 employees and total assets of EUR 42.9 billion (as of 31 December 2006).
Press Release Q1 2007 (pdf)
Consolidated Interim Financial Statements Q1 2007 (pdf)
###