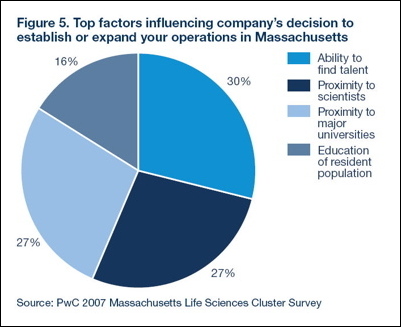 We must respond to direct competition from other states and countries in what will play out as a rivalry of historic proportions over the next ten years.
Boston, MA (PRWEB) April 26, 2007
Massachusetts' life science industry is the second-biggest driver of job growth in the state's economy and represents the world's largest concentration of life science firms per square mile, according to a report released today by PricewaterhouseCoopers (http://www.pwc.com/health), the Massachusetts Technology Collaborative and the New England Healthcare Institute. Yet the report's authors warn that increased competition from other states means Massachusetts must do more to protect its global leadership position.
Almost every state in the country and many foreign nations now have economic stimulus packages to expand their life sciences capabilities. Eight-five percent of more than 100 Massachusetts' life sciences leaders surveyed by PricewaterhouseCoopers said they believe the state legislature should endorse a bond referendum to support future growth of the industry.
"The state simply is not investing as it should, and as other states are, in its life sciences industry," said Gerry McDougall, leader of PricewaterhouseCoopers Health Sciences practice. "We must respond to direct competition from other states and countries in what will play out as a rivalry of historic proportions over the next ten years."
According to the report, titled "Super Cluster: Ideas, perspectives and updates from the Massachusetts life sciences industry," (http://www.pwc.com/us/eng/about/ind/healthcare/thought.html ) Massachusetts leads the U.S. in the number of life science patents and share of government research funding on a per capita basis, and life sciences firms are expanding both R&D and manufacturing capacity inside the state. Life sciences jobs have continued to grow even as employment in other sectors, particularly traditional manufacturing, has declined. As a result, one in six Massachusetts residents is now employed in the high-paying life sciences field, making it second only to healthcare as the state's leading job creator.
Despite the success of Massachusetts' life sciences industry, the PwC survey found signs that future growth may be hampered by the state's high cost of living, shortage of affordable housing, transportation issues resulting in long commutes, a diminishing pipeline of math and science students and the high cost of doing business in the state.
"First and foremost, this report is a celebration of Massachusetts' success and the important role its life sciences sector is playing in new approaches to human health," said James Connolly, PricewaterhouseCoopers partner and Boston Life Sciences Assurance practice leader. "But it also should be a call to action. Other states and foreign countries recognize the value of the life sciences as an economic engine of growth and are aggressively luring firms and talent. Many of these states are seeing faster job growth than Massachusetts. While it would be difficult to replicate Massachusetts' strengths, it's not impossible, and we should never be complacent."
Highlights of the PwC 2007 Life Sciences Survey include:

Ninety-nine percent of respondents with R&D in Massachusetts reported that they plan to maintain or increase their R&D activities in the state over the next two years.
Almost half of respondents with manufacturing operations have these operations in Massachusetts, and over half of those expanded their manufacturing over the past year. Nearly six out of ten (59%) expect to increase manufacturing activities in Massachusetts over the next two years, while 15 percent plan to reduce these activities in-state. Those who plan to expand in other states indicated they would move their move operations to Europe, Asia, and other states with lower-cost skilled labor pools.
The proximity to scientists and universities is the top factor influencing the decision to establish or expand operations in Massachusetts, followed by the ability to find appropriately trained talent among the state's highly skilled workforce.
Two-fifths of respondents said their intellectual property was developed at a Massachusetts academic institution. Of those, six in ten companies plan to maintain patent license agreements with Massachusetts academic partners, and nearly four in ten (38 percent) plan to broad those agreements over the next two years.
Massachusetts ranks second behind California in total venture capital financing of life sciences companies and number of deals. The state's 43 percent growth in venture investments in 2006 far surpassed the 10 percent growth for California, according to data from the PricewaterhouseCoopers MoneyTree report. Coupled with Massachusetts' large share of National Institutes of Health (NIH) funding, this has helped fuel innovation in the Bay State.
The report identifies several areas of concern raised by industry participants:
Decrease in Federal Funding: Competition for federal funding has grown fiercer, and the national NIH budget for biomedical research has flattened in recent years, which could have a significant impact on the Massachusetts innovation economy. Only about one-fifth of PwC survey respondents expect NIH funding to increase over the next five years, and nearly as many expect it to decrease.
Diminishing Pipeline of Talent: While Massachusetts' skilled workforce is its greatest asset, nearly one-quarter of respondents (24 percent) fear the state's future workforce will not be adequately prepared for work in the life sciences. More than half (52 percent) point to K-12 education in the math and sciences as a key area for improvement. In addition, the state is experiencing a net population out-migration of working adults and has difficulty retaining students post-graduation because of the high cost of living.
Competition for Manufacturing: While the majority of companies with manufacturing activities in Massachusetts plan to maintain or increase their manufacturing workforce inside the state, one-quarter of respondents plan to reduce it. Firms expanding manufacturing out of state say they are moving operations to Europe, Asia and other U.S. states for access to a lower-cost skilled labor force.
Transportation Gridlock: Three in five life sciences company executives (59 percent) said that transportation is a significant issue in Massachusetts, and, of those, eight in ten (83 percent) said the problem is that their employees have difficulty getting to work.
"Though the life sciences industry is a significant and growing component of the Commonwealth's economy, Massachusetts life sciences leadership is not a foregone conclusion," said Wendy Everett, President of the New England Healthcare Institute. "Given increasing global and national competition, the future prosperity of the industry and the state will depend on development of a strategic long-term plan to address systemic challenges such as education and infrastructure. We need concerted commitment to promote the growth of this industry and forge stronger partnerships between the public and private sectors."
While the Super Cluster report identifies major challenges, there is significant opportunity for Massachusetts to maintain its leadership position. Almost three-quarters of survey respondents believe Massachusetts will maintain its leadership position as a biotechnology/R&D center of excellence in the U.S.
Methodology
PricewaterhouseCoopers, with support from New England Healthcare Institute, Massachusetts Technology Collaborative, Massachusetts Biotechnology Council and Massachusetts Medical Device Industry Council, administered the survey for the Super Cluster report. The online survey, conducted in the winter of 2007, reflected responses from 105 individuals in 92 organizations.
About the Massachusetts Technology Collaborative
The Massachusetts Technology Collaborative is the state's development agency for renewable energy and the innovation economy. It works to stimulate economic activity in communities throughout the Commonwealth by bringing together leaders from industry, academia, and government to advance technology-based solutions that lead to economic growth and a cleaner environment in Massachusetts. http://www.mtpc.org
About the New England Healthcare Institute
The New England Healthcare Institute (NEHI) is a not-for-profit collaborative dedicated to transforming health care for the benefit of patients and their families. Through research, education and policy change, NEHI finds and promotes innovative ways to improve health care quality and lower health care costs. Working in partnership with members from all across the health care system, NEHI brings an objective, collaborative and fresh voice to health policy. http://www.nehi.net.
About PricewaterhouseCoopers
PricewaterhouseCoopers LLP (http://www.pwc.com) provides industry-focused assurance, tax and advisory services to build public trust and enhance value for its clients and their stakeholders. More than 140,000 people in 149 countries across our network share their thinking, experience and solutions to develop fresh perspectives and practical advice.
Contacts:
Todd W. Hall
PricewaterhouseCoopers
617-530-4185
Constance Hubbell Clapp
The Hubbell Group, Inc.
781-878-8882
# # #