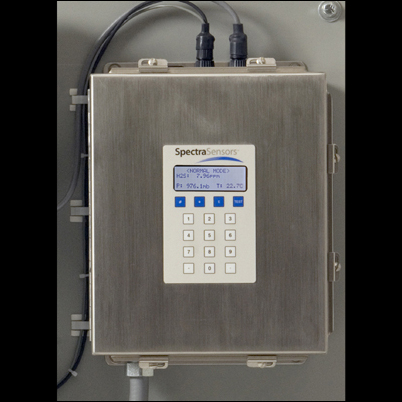 One of the major benefits of the TDL-based analyzer is the avoidance of hazardous waste, a major drawback to widely used lead acetate tape systems
Rancho Cucamonga, CA (PRWEB) April 27, 2007
Widely regarded as the "new standard" in moisture analyzers, the SpectraSensors laser-based optical analyzer is now available for fast and accurate measurement of hydrogen sulfide (H2S) contaminants in natural gas processing and pipeline operations.
The costs, hazardous waste and other maintenance issues associated with lead acetate tape systems, UV analyzers, chromatographs and other technologies traditionally used for hydrogen sulfide measurement can now be avoided via this new-generation Laser-Based H2S analyzer.
Providing ongoing measurements that are precise and highly repeatable, this new technology also offers several cost advantages, including lower initial investments than many conventional analyzers, involves virtually no consumables or recalibration and requires very little maintenance.
This laser-based analyzer technology, in wide use by the natural gas transportation industries for measuring moisture, is easy to use and provides dependable measurements at intervals of seconds rather than minutes. It can also be combined the same moisture analyzing technology to minimize maintenance and other technical support.
Developed by SpectraSensors, Inc. (Rancho Cucamonga, CA), a leader in optical sensor and measurement systems, the new analyzer uses the firm's NASA-based Tunable Laser Diode (TDL) technology to measure hydrogen sulfide content in hydrocarbon streams such as fuel gas typically used throughout refinery and petrochemical installations.
"One of the major benefits of the TDL-based analyzer is the avoidance of hazardous waste, a major drawback to widely used lead acetate tape systems," explains Sam Miller, Director of marketing for SpectraSensors. "Once used, the tape must be disposed of in a manner that is both costly and inconvenient. UV analyzers can be used for H2S measurement also but require light source replacement and are often confused by interfering background gas components. GC's are highly complex systems that require trained experts to operate. Reduced manpower for maintenance and increased automation are universal trends for pipeline operators, so these companies welcome technologies that reduce their financial exposure in this way."
SpectraSensors, Inc., headquartered in Rancho Cucamonga, California, was incorporated in 1999, as a technology spin-off of the NASA/Caltech Jet Propulsion Laboratory. The company is a leading manufacturer of optically based gas sensors for the industrial process and environmental monitoring markets. Their gas analyzers measure moisture (H2O), carbon dioxide (CO2), hydrogen sulfide (H2S), methane (CH4), sulfur dioxide (SO2), total sulfur, ammonia (NH3), ethylene oxide (ETO) and more.
SpectraSensors, Inc.
Sam Miller
http://www.spectrasensors.com/h2s
Phone: (800) 619-2861
Fax: (909) 948-4142
###