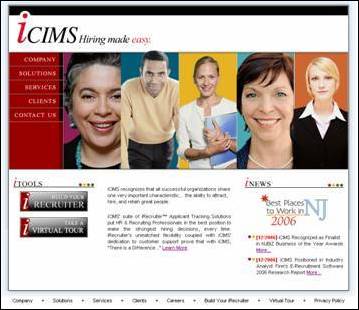 After an extensive vendor evaluation process, we made the decision to partner with iCIMS as they demonstrated the ability to provide a targeted implementation approach to address our pressing needs
Hazlet, NJ (PRWEB) April 27, 2007
iCIMS, a leading Software-as-a-Service (SaaS) provider, today announced that The Hershey Company has selected iCIMS' Talent Platform, iRecruiter™, to streamline and automate the organization's talent initiatives. Headquartered in Hershey, PA, The Hershey Company is the largest manufacturer of quality chocolate and non-chocolate confectionery products in North America, with revenues of over $4 billion. iCIMS effectively implemented a talent management solution for The Hershey Company's U.S. salaried workforce across 15 locations.
The Hershey Company selected iCIMS for the company's commitment to service and impressive reputation. With an immediate need to implement an intuitive, scalable, and flexible system, The Hershey Company called on iCIMS' Customer Support team to facilitate and ease the transition from another system. "After an extensive vendor evaluation process, we made the decision to partner with iCIMS as they demonstrated the ability to provide a targeted implementation approach to address our pressing needs," said Tonia Anderson, Director, Talent Acquisition, Integration & Retention.
To facilitate a seamless transition for internal employees, iCIMS matched Hershey's existing processes and specifications within the iRecruiter platform. "By analyzing Hershey's strategic talent vision, iCIMS was able to identify key components of the company's recruiting processes and then translate those processes to a dynamic, on-demand workflow," said Andrew Curtis, iCIMS' Director of Customer Services. Curtis continued, "Leveraging Best Practices gained by supporting other industry leaders like FedEx Services, Continental Airlines, and Liz Claiborne, iCIMS' implementation team enhanced Hershey's recruitment programs with minimal downtime."
The Hershey Company went live on a fully functional iRecruiter system designed for flexibility, scalability, and the company's projected growth. "iCIMS' Customer Service team went above and beyond Hershey's expectations by setting processes into place that will support recruiter efficiency and company growth," stated Anderson. "More importantly, iCIMS created a seamless transition process, resulting in little to no impact on the talent initiatives of Hershey's employee population."
About iCIMS:
iCIMS, a leading Software-as-a-Service (SaaS) provider, is an Inc. 500 honoree focused on solving corporate business issues through the implementation of easy-to-use web-based software solutions. iCIMS' iRecruiter, the industry's premier Talent Platform, enables organizations to manage their entire talent lifecycle through a single web-based application. With 450+ clients worldwide, iCIMS is one of the largest and fastest-growing solution providers in the space. To learn more about how iRecruiter can help your organization, visit http://www.icims.com.
Trademarks and registered trademarks contained herein remain the property of their respective owners.
This press release was distributed through eMediawire by Human Resources Marketer (HR Marketer: http://www.HRmarketer.com) on behalf of the company listed above.
# # #