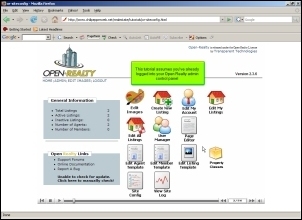 Real estate agents just getting into the online market need a solution that gives them a head start on building an effective website without costing an arm and a leg
Houston, TX (PRWEB) April 30, 2007
Houston, Texas, April 30, 2007 -- The tools that go into an effective real estate website can seem like a complex affair to someone not familiar with website design. Homemade websites often lack functionality and look amateurish or outdated in design. You could pay a professional to do it, but many design firms charge a small fortune or give the same cookie-cutter website to all of their real estate clients. Surely there's a middle road?
"Real estate agents just getting into the online market need a solution that gives them a head start on building an effective website without costing an arm and a leg," says ChiliPepperWeb.net founder Stacy Clifford. With that in mind, we researched to see how we could provide for the budget-conscious do-it-yourselfer in the real estate website market. The answer we found starts with Open-Realty®, the open source real estate website builder already popular with many professional designers. It has all the great features real estate brokers need in a website for a small to medium-sized real estate business, such as:
· Searchable listings you can easily customize and update
· Ability to upload property images and virtual tours
· Maps and community information links
· Built in contact forms
· Loan calculators
· Site memberships, saved searches, and email notifications for customers
· Built in HTML editor to customize your content
· Site admin to manage listings, content, users and agents
To make a good program even better, we added a few features of our own. We started by simplifying the installation. No need to know how to set up a database or set permissions on files and folders. We integrated the installer into our website control panel, so with just a few clicks, name a folder and set a username and password and the site is ready to be customized immediately.
Next we added features to the original version of Open-Realty® to make it more useful for a small to medium-sized real estate brokerage:
· Online Image Editor - Customizing your website means changing the images to suit you and your business. You can crop, resize, add text for titles and captions, upload your own pictures and logos, and edit any button, header or background image for any template on the site, all without purchasing expensive graphic editing software.
· Advanced Mortgage Calculators - Knowing the numbers helps home buyers make better and more confident decisions, so we included 20 additional mortgage calculators, complete with amortization schedule tables, financial analysis, plain English help, and the ability to print out calculator results as a PDF file with your logo on it.
· Mortgage Rate Watch - At the top of every mortgage calculator is a table updated continuously to show current national mortgage rates and recent trends for four different types of mortgages to help make customers' calculations more accurate.
· Template Installation - We provide several free templates to choose from and added links to many more affordable Open-Realty® templates that we will install for any customer free of charge upon request.
Of course, the best program in the world is no good if you don't know how to use it. To solve that problem, we created a complete set of detailed custom video tutorials to explain in plain language, step by step how to use all the major features of Open-Realty® to set up and customize your website.
Each package comes with our standard list of hosting features that includes domain registration, email, spam filtering, billing management, website statistics, blog and forum plugins, and much more, starting at just $19.95 a month. Many more tutorials and support pages for these features are available on our site as well, and we're just a phone call or an email away for friendly personal assistance. "As always, our primary mission is support," says company founder Stacy Clifford. "Customer confidence comes from knowing you'll get the help you need when you need it, and that's what we are here for." Starting a real estate website should be easy, and ChiliPepperWeb.net is dedicated to making sure that it is.
Contact:
ChiliPepperWeb.net
832-671-4149
http://www.chilipepperweb.net/realestate
###