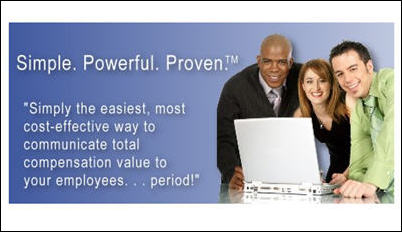 Most employees have no idea of the staggering costs that employers absorb each year.
Rocklin, CA (PRWEB) April 30, 2007
In an age where employees value their benefits as highly as their paycheck, communicating those benefits can be crucial to retaining top talent.
This reality is behind the introduction of TotalCompBuilder.com, the first web-based, on-demand total compensation statement software for employers. Developed by TotalRewards Software, two premiums editions are available – Professional and Enterprise. The two full-featured premium editions start at $600 per year per client.
Both produce full color, high impact total compensation statements in print and the Enterprise Edition includes a multi-page online statement as well. These statements are fully branded with the company's corporate colors, logo and executive signature. Using an online wizard, Microsoft Excel template and Word-like HTML editor, employers can easily produce both print and online total compensation statements for each employee. All employers need to get started is an Internet connection and web browser -- no software is needed for installation, or complicated updates to download.
"Replacement and training costs can be as high as one to two times an individual's salary, so it's no longer a luxury to share with employees the full value of their benefits package – it's a necessity," said Ray O'Donnell, President of TotalRewards Software, Inc. "Most employees have no idea of the staggering costs that employers absorb each year."
In a recent National Business Group on Health survey of over 1,600 employees, more than 80 percent said they valued their health benefits above anything else in their compensation packages, including salaries. In the survey, about three in four employees said they would rather get health benefits through their employer, rather than additional salary to purchase their own.
"Benefits make up 30 percent of an employee's total compensation, and today's employers no longer have the luxury of keeping this knowledge under wraps," O'Donnell adds. "Promoting the value of total compensation raises employee morale, increases productivity and retains top performers."
About TotalCompBuilder.com
TotalCompBuilder.com is a service operated by TotalRewards Software, Inc., (formerly BCG Interactive, Inc.) a private company founded in 1991 by business and technology professionals. Its mission is to deliver high quality, cost-effective, total compensation statement software solutions to companies of all sizes in North America. For more information visit http://www.TotalCompBuilder.com.
Media Contact:
Ray O'Donnell, TotalRewards Software
(916) 632-1000, x202
This press release was distributed through eMediawire by Human Resources Marketer (HR Marketer: http://www.HRmarketer.com) on behalf of the company listed above.
###