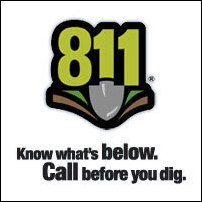 Now that there is a single number to call, any time, there's no excuse for putting lives at risk by striking a utility line
Washington, D.C. (PRWEB) May 1, 2007
At a press conference today on the National Mall, the Common Ground Alliance (CGA) joined with U.S. Secretary of Transportation Mary Peters, the Federal Communications Commission, and representatives from national launch partners the Associated General Contractors of America, John Deere, The Travelers Companies, Inc., and Cox Communications, to ceremonially connect 811, the new national 'Call Before You Dig' number.
"Now that there is a single number to call, any time, there's no excuse for putting lives at risk by striking a utility line," said U.S. Secretary of Transportation Mary E. Peters. "If 911 is the number you call to report emergencies, 811 is the number to call to prevent them."
The 811 number was designated by the FCC in 2005 at the direction of an Act of Congress in 2002. Its creation was supported by more than fifteen industry stakeholder groups who encouraged its development and creation and now promote its use nationwide.
To ensure that all Americans know and use 811, today's event on "America's Front Yard" also kicked off a national public education campaign, which will use an educational Web site (http://www.call811.com), television and radio PSAs, industry and consumer outreach, and local events to raise awareness of the new number and demonstrate its relevance to consumers and professionals who conduct digging activities. Additionally, the campaign's national launch partners and promotional sponsors will promote the new number through a variety of tactics designed to leverage the grassroots power of their customers, clients and members, creating awareness and positive behavioral change among those most likely to dig.
"Knowing the approximate locations of where utility lines are buried before each digging project helps protect America's pipelines, industry and people," said CGA President Bob Kipp. "We believe the new 811 number will encourage more people to have their lines marked to protect themselves, their neighbors and their community."
Nationwide, risky assumptions about the location of underground utility lines, which are buried at various depths below the ground, lead to more than one unintentional hit per minute every day, every year. Even simple digging jobs can damage utility lines and disrupt vital services to an entire neighborhood, harm those who dig, and result in expensive fines and repair costs.
For more information about the 811 service, campaign, and a new national survey on consumer digging habits, visit http://www.call811.com.
ABOUT CGA
CGA is a member-driven association of nearly 1,400 individuals, organizations and sponsors in every facet of the underground utility industry. Established in 2000, CGA is committed to saving lives and preventing damage to American underground infrastructure by promoting effective damage prevention practices. CGA has established itself as the leading organization in an effort to reduce damages to underground facilities in North America through shared responsibility among all stakeholders. For more information, visit CGA on the web at http://www.commongroundalliance.com
ABOUT PARTNERS
The Department of Transportation
http://www.dot.gov
The Associated General Contractors of America (AGC)
http://www.agc.org
John Deere (Deere & Company - NYSE: DE)
http://www.deere.com
The Travelers Companies, Inc. (NYSE: TRV)
http://www.travelers.com
Cox Communications
http://www.cox.com, http://www.coxbusiness.com and http://www.coxmedia.com.
###