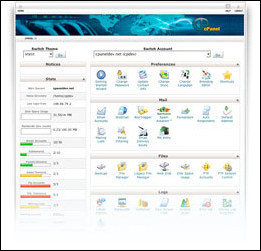 White Haven, PA (PRWEB) May 2, 2007
Today, cPanel, a leading Web Hosting Control Panel Software provider, officially announced the release of cPanel and WHM version 11.
cPanel and WHM 11 brings the most extensive update ever to the cPanel and WHM software package. With upgrades in nearly every section of the product, this version enhances the feature packed, security minded and highly stable platform for web hosting.
This update includes a tremendous list of new features including:

Security Center with comprehensive security tools
Substantial Back-end code upgrades
Apache 2.0.x and 2.2.x support
Increased interface speed
Web disks
Site Owner Interface Upgrade
Site Owner "Getting Started Wizard"
Upgraded branding and better language support
Easy Perl, PHP and Ruby module installers
and much, much more
Due to the massive amount of changes to the cPanel and WHM code base, cPanel will be releasing this upgrade in multiple stages. The first stages will contain the majority of the new features and code, including the new domain owner interface. This first stage is currently available in the CURRENT branch and can be downloaded by running /scripts/upcp on the CLI or 'Upgrade to Latest Version' in WHM. The later updates will be smaller and more focused, including such features as Apache 2.0.x and 2.2.x support. It is recommended to maintain your current upgrade branch to ensure a smooth transition to cPanel 11.
The full cPanel 11 release schedule and comprehensive feature information can be found at http://www.cpanel.net/cpanel11
"This update is our most massive update ever. We've decided to release in multiple parts to make it an easy transition for our customers as most are using a code base that is quite different from that of cPanel 11. This staggered release will allow us to provide hands on assistance for our upgrading customers and make the upgrade process relatively elementary," says Dave Koston, cPanel's Operations Manager.
About cPanel
cPanel is a leading Web Hosting Control Panel Software provider supplying hosting automation tools to numerous data centers and customers all around the world. cPanel offers web hosting software that automates the intricate workings of web hosting servers. cPanel products are used on tens of thousands of servers worldwide to equip server administrators with the tools they need to provide top notch hosting to their customers.
For more information, please visit the cPanel web site at http://www.cpanel.net or contact cPanel Public Relations.
###