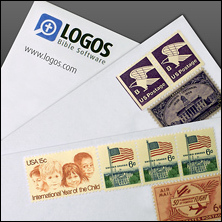 This is a very simple idea, requires almost no effort, and doesn't involve 'forever stamps' or any upfront investment
BELLINGHAM, WA (PRWEB) May 14, 2007
The United States Postal Service's 5% postage rate increase on May 14 will leave many small businesses, non-profits, and niche magazines feeling the financial squeeze and may run some out of business. But one enterprising small business has discovered a way to buy first class postage at 10% off face value.
Many think it's impossible (or even illegal) to buy stamps at a discount, but not only is it possible and legal…it's being done today by Logos Bible Software and could be replicated by any other organization looking to cut costs.
"For the past few months, we've been realizing a 10% savings on postage for all our invoices, statements and other business-to-business mail," said Dan Pritchett, director of marketing, Logos Bible Software. "And previously we thought there was no way to trim costs in this category."
A recent post at the Logos Blog tells how the company has achieved these cost savings.
"This is a very simple idea, requires almost no effort, and doesn't involve 'forever stamps' or any upfront investment," said Pritchett. "It's working great for our company and we want to pass the idea along to anyone who likes saving money. All we ask in return is a link to the blog post that started it all."
That URL is: http://blog.logos.com/archives/2007/05/beating_postage_increase.html
About Logos Bible Software
Logos Bible Software, a privately held corporation located in Bellingham, Wash., is the leading publisher of high-end, award-winning, multilingual Bible software. The company serves church, academic and lay markets, striving to bring the best in software innovation to Christians worldwide. See http://www.logos.com
###