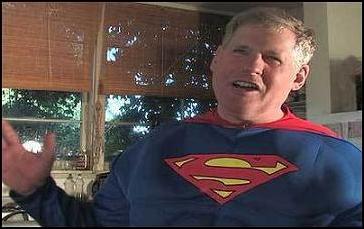 San Jose, Calif. (PRWEB) May 16, 2007
Singer-songwriter August Bullock loved comic books as a child. Superman, Batman, and other heroes he admired never tortured their victims, never struck the first blow, and always adhered to the highest ethical standards.
He composed a protest song, "Heroes of America -- an anti-war anthem," around this idea, lamenting the loss of America's moral compass. As soon as he performed it in coffee shops he realized he was on to something. "The notion that we are supposed to be the good guys really moves people," says Bullock, "and contrasts starkly with images of Abu Grade and other Iraqi horrors."
"Heroes of America" was instantly popular, but the music video he made from it really made it fly. "The whole process was serendipitous," explains Bullock. "At first I was just going to wear a Superman costume while I sang the song. Then I had the idea of filming other "superheroes" in public places on Halloween. Then I added protesters at a huge peace rally in San Francisco. When I spliced everything together I discovered I had a made commercial for the peace movement."
The video took off as soon as he launched it. Activist Carol Brouillet received an email about it from a friend, and immediately organized a "Heroes of America" protest rally in Palo Alto, California. She gave an impassioned speech dressed as Wonder Woman, and invited Bullock to perform the song live as Superman. Other protesters appeared as Spiderman and assorted comic characters. The news media eagerly covered the colorful sight of superheroes fighting to restore American values.
Bullock is awed by the magic of YouTube, the popular website hosting his video. "It's amazing," he says, "you can make something in your kitchen, upload it for free, and if it strikes a nerve people all over the world will respond to it. It's kind of like Superman flying at the speed of light, talking to peace activists all over the planet."
Watch the video at: Heroes of America- an anti-war anthem
Additional information and photos at: http://augustbullockmusic.com/about%20Heroes%20video.htm
###