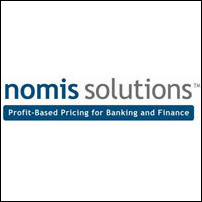 How Profit-Based Pricing Supports Compliance
San Bruno, CA (PRWEB) May 15, 2007
Nomis Solutions, the leader in Profit-based Pricing for banking and finance, announced that the award-winning Nomis Price OptimizerTM Suite helps support regulatory requirements with its strong compliance framework. In addition to increases in profits and market share of 10-20% and valuable insights about how prices impact customers and portfolio performance, banks value the ability to use a more disciplined approach that provides the transparency, objectivity, and risk management that bank regulators require.
Recently, regulators have been imposing increasingly tighter controls and requiring more transparency of pricing practices. When regulators investigate Fair Lending practices, the burden of proof lies on the bank to justify and demonstrate its pricing practices. Until now, there have been few innovative ideas on how to leverage pricing practices to gain a competitive advantage while meeting the needs of regulators. Some of the pricing challenges that banks face are:

a lack of industry standards or structured pricing processes,
a reliance on judgment rather than data analysis, and
little understanding of how price impacts risk.
Dr Robert Phillips, Founder, Chief Science Officer and Vice President, Product Management at Nomis Solutions, and Dr. Robert Oliver, Professor Emeritus of Operations Research and Engineering Science at the University of California and a member of Nomis Solutions Advisory Board, recently participated in a bank examiners' training session hosted by the Office of the Comptroller of the Currency (OCC). They provided the examiners with information about how price optimization technology works and how a Profit-based Pricing approach supports compliance efforts.
Jean Noonan, partner and manager of the Washington, D.C., office of Hudson Cook, LLP, counsels banks and other creditors on compliance with federal fair lending and financial privacy laws. She also co-authored an Executive Whitepaper on the topic of compliance with Dr. Phillips. "Financial institutions must have adequate policies and procedures in place to ensure safe and sound lending practices that are compliant with current laws and regulations," said Noonan. "Profit-based Pricing provides lenders with a paper trail for each pricing decision, offering the visibility that regulators require and making it easier for historic pricing decisions to be audited and defended, should the need arise."
Dr. Phillips explained the benefits. "The Nomis Price Optimizer Suite proactively facilitates compliance by providing banks with:
Transparency: With its 5-step process and the ability to incorporate business rules and constraints, lenders have a record of and a rationale for all pricing decisions.
Objectivity: By demonstrating all the factors used in pricing a loan or line, and using empirical transaction history rather than subjective information to make pricing recommendations, banks can better address fair lending concerns.
Risk Management: Because it quantifies the impact of price on customer demand elasticity; adverse selection; and the propensity of delinquency, default and pre-payment; Profit-based Pricing enables lenders to calculate and understand the effects of pricing decisions on the risks they face.
Already in use at 10 major global banks and finance companies, the Profit-based Pricing approach is expected to grow exponentially over the next two years. TowerGroup, http://www.towergroup.com, a leading financial services analyst group, is anticipating that 90% of the large U.S. banks will have adopted price optimization by 2009.
More information can be obtained by visiting Nomis Solutions' website and by requesting the Executive Whitepaper, "How Profit-Based Pricing Supports Compliance," co-authored by Dr. Phillips and Jean Noonan.
About Nomis Solutions
Nomis Solutions is the recognized leader in Profit-based Pricing for banking and finance. Powered by price optimization technology, Profit-based Pricing is an innovative approach that enables executives to strategically use pricing to increase profits and market share. The award-winning Nomis Price Optimizer is a suite of business solutions that combine pricing analytics, price optimization, and price execution into a comprehensive pricing strategy and process.
The suite includes specific solutions for auto finance, mortgage, home equity lending, personal lending, and deposits. Each solution delivers benefits within 12 weeks, increases profits by 10-20%, and provides valuable insights about customers and portfolio performance within a strong compliance framework. Select customers include AmeriCredit, Ford Motor Credit Company, GE Consumer Finance, HBOS, Royal Bank of Canada, and Washington Mutual. Headquartered in San Bruno, CA, Nomis Solutions has offices in Charlotte, NC, and London, United Kingdom. Visit http://www.nomissolutions.com or contact us at info@nomissolutions.com or 650-588-9800.
Nomis Solutions and Nomis Price Optimizer Suite are trademarks or registered trademarks of Nomis Solutions, in the United States and in other countries. Other product and company names herein may be the trademarks of their respective owners.
###