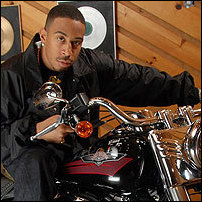 Our TLF programs and support initiatives have directly impacted thousands upon thousands of lives
Atlanta, GA (PRWEB) May 17, 2007
Harley-Davidson® has donated a 2007 Fat Boy® motorcycle for auction on eBay to raise awareness for The Ludacris Foundation's ongoing benevolent efforts. An avid motorcyclist himself, Ludacris has autographed the bike, along with athlete Shaquille O'Neal, actress Meagan Good, actor Andy Samberg (Saturday Night Live), and fellow hip-hop/R&B artists Kanye West, John Legend, Diddy, Common, Will.i.am, Bow Wow and Cee-Lo. Launching Saturday, June 2, 2007, the auction's starting bid is set at $10,000, which is dramatically lower than the bike's retail price. Pictures can be viewed on the auction page: ebay.com/ludacrisharley, which will close June 12, 2007 with 100% of proceeds going to The Ludacris Foundation.
In commemoration of the auction and The Foundation's efforts, Ludacris and Samberg have revived their popular "Blizzard Man" sketch from Ludacris' November 2006 SNL guest appearance. The amusing new clip is approximately three minutes long and can be found on the auction page -- ebay.com/ludacrisharley.
"Our TLF programs and support initiatives have directly impacted thousands upon thousands of lives," says Ludacris. "And what I am more proud of is the fact that we have thousands of hours invested in hands-on service. I mention these things not to brag, or pat myself -- or my foundation -- on the back, but to underscore the responsibility we all have to turn back, reach back and give back. That's why we do what we do, and that's why we are so happy to work with Harley-Davidson and others that share our desire to help."
Established in 2001 with business partners William Engram (actor, Hustle and Flow) and Chaka Zulu (manager/co-CEO, Disturbing Tha Peace), The Ludacris Foundation is based on the principles of Ludacris' own upbringing, which consists of maintaining self-esteem, spirituality, communication, education, leadership, aspirations, physical activity and community service. Ludacris' continued philanthropic success has proven his ability to connect with people in a unique and authentic way as he remains committed to helping inner-city youth help themselves.
Since 2001, Disturbing tha Peace Records CEO, Ludacris' non-profit The Ludacris Foundation has donated more than one million dollars to improve lives of at-risk youth, families and communities in his native Atlanta. The Foundation has provided over 30 grassroots non-profit organizations with grants, invested more than 5,000 hours nationwide to assist young people, and with its annual holiday program, "Luda Cares," provided food baskets to over 1,000 families and more than 1,500 Christmas toys to childrens hospitals and economically depressed neighborhoods.
For more information about The Ludacris Foundation, visit: theludacrisfoundation.org
###