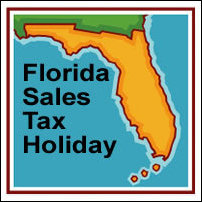 If you purchased a generator online - regardless of size -- before, during or after the tax holiday, you won't pay us any sales tax
Bolingbrook, IL (PRWEB) May 28, 2007
There's no doubt about it. Tax breaks are always a good thing, especially when they protect families from Hurricanes.
The State of Florida recently approved its third Sales Tax Holiday on emergency supplies.
Beginning Friday, June 1 and ending Tuesday, June 12, 2007, Florida residents can purchase emergency preparedness items, including portable generators, without paying state sales tax.
"The concept is great as long as you read the fine print first," said Jon Hoch, founder of ElectricGeneratorsDirect.com, an online generator superstore.
According to Hoch, the new law applies to "portable generators selling for $1,000 or less," which is ideal for families looking to purchase a small portable generator for a relatively small home.
Here's the Catch:
According to the fine print, "If the sales price of a qualifying item exceeds the allowable threshold amount, this tax exemption will not apply and the total purchase price is subject to tax."
"In layman terms, if you buy a portable generator for exactly a grand, you don't pay sales tax. However, if you buy one for just a penny more, you pay all of the sales tax," warns Hoch.
So even if you purchase a home standby generator locally for $2,000, don't expect to pay only half the sales tax. You will be responsible for paying the entire tax bill, warns Hoch.
ElectricGeneratorsDirect.com offers 138 different generator models. Only 34 models (or 25%) of the available generators qualify for the tax rebate. Larger portable generators, ranging from 6,000 to 15,000 watts, do not qualify. Not a single home standby generator qualifies.
Here's an Inside Tip:
ElectricGeneratorsDirect.com offers a tax-free guarantee every day. The online generator superstore never charges sales tax on any order at any time.
"If you purchased a generator online - regardless of size -- before, during or after the tax holiday, you won't pay us any sales tax," said Hoch.
In addition, the online generator superstore is offering manufacturer rebates on select Guardian home standby generators until June 15.
"You can have your cake and eat it too," said Hoch. "If you buy a Guardian standby generator online, you won't pay any sales tax. Plus, you can receive an additional manufacturer rebate, ranging from $150-$250."
Click Here for More Details About the Rebate Offer
ElectricGeneratorsDirect.com is owned and operated by Power Equipment Direct, Inc. The Bolingbrook, IL-based e-tailer also operates AirCompressorsDirect.com and PressureWashersDirect.com.
###