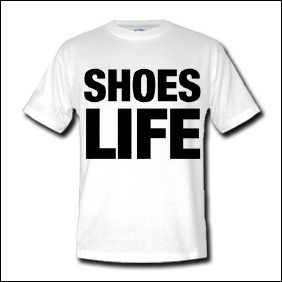 Wake Me Up Before You Go-Go
Derby, England (PRWEB) June 15, 2007
Are we more interested in shoes than in politics? Is Manolo Blahnik more relevant to the lives of women than Margaret Beckett (British Foreign Secretary) and does Jimmy Choo mean more than John McCain?
English t-shirt designer Queen of Suburbia certainly thinks so with the release of her new politically motivated T-Shirt "Shoes Life."
The white t-shirt with large black text uses as it's muse one of the most famous political t-shirts in fashion's history, the controversial "Choose Life" t-shirt by Katherine Hamnett. Many will remember it as being part of Wham's "Wake Me Up Before You Go-Go" video. The shirt was something of a trojan horse, it appeared to be promulgating a fun, positive message yet in reality it was masking an anti-establishment agenda. Shoes Life works along the same lines.
The contention made by the t-shirt is that women are now so disillusioned by politics that they are more interested in fashion and celebrity.
Queen of Suburbia creator Danielle Tomkinson states that this disconnect is the result of a collective failure of politicians to engage and listen to the voting public. Speaking on her fashion blog she states "it's a quite apparent really, you have a situation where politicians (certainly in the UK) were prepared to go to war in Iraq without the support of voters and then if you look at the whole Blair/Brown situation, we are about to take on a new Prime Minister that nobody has voted into power, what's worse, is that, nobody really cares!"
Marketing Director, Mark Errington explains "we used Choose Life as the backdrop as it's a tee everybody recognises, it works on two levels, you've got the fun element of the play on words but it underlines a very serious point."
The t-shirt is available exclusively on the Queen of Suburbia Website http://www.queenofsuburbia.com
About Queen of Suburbia
Queen of Suburbia are based in the UK and headed up by designer Danielle Tomkinson. Queen of Suburbia has shot to European prominence with a range of t-shirts and bags influenced by politics amongst school mothers. Danni worked for several prominent fashion houses in late 90's London but left the big city lights for suburbia where she had her two children. Whilst design remained a hobby, it seemed like her high-flying career was a thing of the past until she found an unlikely muse in the school playground.
The politics amongst the mothers in the schoolyard fascinated Danni and soon she was designing again. This time, rather than suits for Paul Smith or dresses for 1647, it was slogan t-shirts that became the outlet for her creative talents.
Queen of Suburbia started small but grew quickly, first local, then regional, national and Europe-wide, the witty, arch and fashionable tees struck a cord and now finally demand from the US has reached such a level that Queen of Suburbia has opted to distribute in the US via her website http://www.queenofsuburbia.com.
Contact:
Mark Errington, Marketing Director
Queen of Suburbia
00441332 510519
http://www.queenofsuburbia.com
# # #