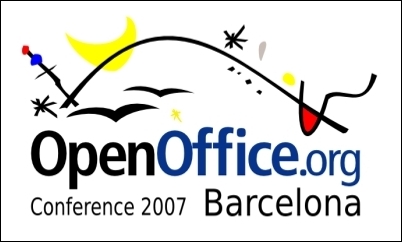 Edinburgh, UK (PRWEB) June 18, 2007
The OpenOffice.org Community - responsible for the leading free software alternative to Microsoft Office - has published the draft Programme for its annual Conference. Following a big surge of interest, the Conference has been extended to three full days. Conference topics include technical presentations and workshops for developers, case histories from around the world, future product developments, how to get involved in the Community, and hints and tips for users. There is a special focus this year reflecting the growing interest in OpenOffice.org extensions and components - adding 'plug in' features to OpenOffice.org and using OpenOffice technology in other applications.
The draft Conference Programme provides abstracts and speaker biographies for the 60 conference sessions. With registration opening later this week, people interested in attending are urged to visit the Conference web site,
download the draft Programme, and start making their travel plans.
About OpenOffice.org
The OpenOffice.org Community is an international team of volunteer and
sponsored contributors who develop, support, and promote the leading
open-source office productivity suite, OpenOffice.org®. OpenOffice.org's
leading edge software technology (UNO) is also available for developers,
systems integrators, etc to use in OpenOffice.org extensions or in their
own applications.
OpenOffice.org supports the Open Document Format for Office Applications
(ODF) as well as legacy industry file formats and is available on major
computing platforms and with native language support in over 80 languages. OpenOffice.org software is provided under the GNU Lesser General Public Licence (LGPL) and may be used free of charge for any purpose, private or commercial.
The OpenOffice.org Community acknowledges generous sponsorship from a
number of companies, including Sun Microsystems, the founding sponsor and primary contributor.
Press Contacts:
Louis Suarez-Potts (UTC -05h00)
OpenOffice.org Community Manager
email louis (at) openoffice.org
+1 (416) 625 3843
John McCreesh (UTC +1h00)
OpenOffice.org Marketing Project Lead
email jpmcc (at) openoffice.org
+44 (0)7 810 278 540
Cristian Driga (UTC +0200)
OpenOffice.org Marketing Project Co-Lead
email cdriga (at) openoffice.org
+40 7887 000 60
###