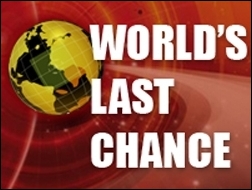 Bible prophecy explains that when leading churches of the United States unite to influence the state to enforce National Sunday Law, Protestant America will then have formed an image of the Roman Catholic Church, known as the 'image of the beast' in prophecy. All who submit to this law will receive the 'mark of the beast'
Cairo, Egypt (PRWEB) July 3, 2007
World's Last Chance has released an article unmasking the smoke screen on the National Sunday Law movement. The article reveals how leading churches in the U.S. have an on-going campaign to bring religion into the civil government through a National Sunday Law. According to the group, this undertaking is a Trojan horse which will lead to the transgression of God's law that stipulates Saturday as the day of worship.
On their website, World's Last Chance show how the Sabbath is the foundation of true worship to God and how Rome substituted Sunday for Saturday in the fourth century. "Roman Catholics acknowledge that the change of the Sabbath was made by their church. They also declare that Sunday-keeping Protestant churches are in reality following the Catholic Church in lieu of the Bible by accepting this unbiblical change," Dahlia Doss says of World's Last Chance.
World's Last Chance reveals that in the 'Catholic Catechism of Christian Religion', in answer to a question as to the day to be observed in obedience to the fourth commandment, this statement was made: "During the old law, Saturday was the day sanctified; but the church, instructed by Jesus Christ, and directed by the Spirit of God, has substituted Sunday for Saturday; so now we sanctify the first, not the seventh day. Sunday means, and now is, the day of the Lord."
"Bible prophecy explains that when leading churches of the United States unite to influence the state to enforce National Sunday Law, Protestant America will then have formed an image of the Roman Catholic Church, known as the 'image of the beast' in prophecy. All who submit to this law will receive the 'mark of the beast'," explains Doss.
According to World's Last Chance, the ongoing campaign by leading churches of the United States to enact a National Sunday Law goes against the Word of God. "God's word has warned us through Bible prophecy that church and state will unite to compel all to honor Sunday instead of God's holy Sabbath, Saturday. Thus Christians will be divided into two classes: those who keep the commandments of God and the faith of Jesus, and those who will keep the Sunday law, contrary to God's word. The eternal destiny of each person will be determined with this final God-given test for mankind."
To read the article on National Sunday Law and the New World Order in Bible Prophecy, click on the following link: http://www.worldslastchance.com/full_article.php.
About World's Last Chance
World's Last Chance (http://www.WorldsLastChance.com) is a ministry that was founded in 2004. It is operated by a small team of volunteers dedicated to sharing the last message of mercy given in the Bible and the wonderful news of the soon second coming of Christ.
Press contact: For more information, you may contact Dahlia Doss at +249 923 539 500.
###