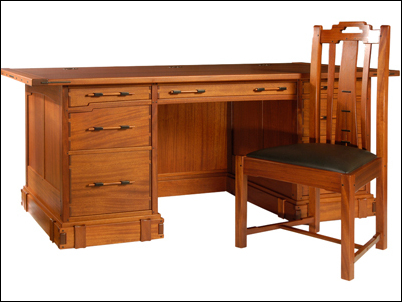 Guru of Greene and Greene
Seattle, WA (PRWEB) July 3, 2007
Drawing upon a long tradition of superb craftsmanship and functional design, Darrell Peart introduces the Aurora Pedestal Desk.
The design is a Darrell Peart original but finds inspiration not only in the designs of Arts & Crafts era architects Greene & Greene, but also from the work of James Krenov as well as Seattle's historic Aurora Bridge.
As a small company, Darrell Peart Furnituremaker places a premium upon attention to detail, fine joinery, and flexibility to meet customer needs. The desk comes standard in beautifully finished ribbon-cut African mahogany but can also be ordered in any commercially available hardwood. Standard features include many exquisite details such as inlaid ebony and a solid wood top. Clients may also specify custom features and dimensions as well as one of a kind companion pieces.
The Aurora Pedestal Desk along with the entire Aurora series is targeted to the upscale executive user as well as collectors, designers, architects, decorators and owners of Arts and Crafts era Bungalows.
Additions to the Aurora Office collection are currently in production.
About Darrell Peart
As a recognized expert Darrell Peart both teaches and lectures nationally on the subject of Greene and Greene furniture construction and design. He has written articles for Fine Woodworking, Today's Woodworker, Home Furniture, Woodwork and Popular Woodworking Magazines. His first book; "Greene and Greene: Design Elements for the Workshop was published in April 2006.
Gregory Anderson of the prestigious Robb Report Collection dubbed him the "Guru of Greene and Greene "(December 2005). He currently serves as Fine Woodworking Magazines' online forum expert for Greene & Greene and Arts & Crafts style furniture. With over 35 years of woodworking experience his furniture has appeared in various galleries; has been featured in both local and national newspapers, magazines, and books; and in private collections throughout the US.
For more information about the Aurora Pedestal Desk please visit http://www.furnituremaker.com. Additional information and high-resolution digital photographs are available to the press upon request.
Contact :
Darrell Peart
Darrell Peart Furnituremaker
9824 30th Ave SW
Seattle, Washington 98126
425 277 4070
http://www.furnituremaker.com
###