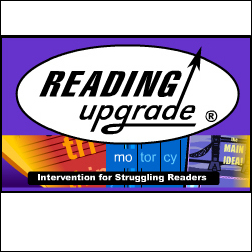 Our challenge was to improve the course and still keep the fun stuff
San Diego, CA (PRWEB) July 3, 2007
Based on the results and feedback of thousands of students, teachers and parents around the world, Learning Upgrade has fined-tuned its popular online reading course, Reading Upgrade, to help students with dyslexia and other learning disabilities overcome reading blocks and effectively learn how to read.
Learning Upgrade found one of the keys to teaching students with dyslexia is to prevent the use of traditional coping methods such as memorization and guessing, which provide short term fixes rather than real, sustainable results.
Reading Upgrade Version 2 incorporates music, video, interactive games and randomization of questions and answer choices to create a fun, engaging and highly effective learning tool for all students and adult learners. Students with dyslexia, ADD and other special needs find that Reading Upgrade works where other methods fail because Reading Upgrade is able to fully engage the student and make learning fun.
Randomly switching the order of questions and answers has proven to be a particularly effective strategy for students with dyslexia. Memorization, a favorite coping method, is rendered ineffective. Students can no longer simply repeat the tests over and over until the order is memorized. Guessing is reduced through the use of restructured sentences specifically designed to encourage more focused reading. Students learn flexible reading strategies which can be applied in the classroom and the real world.
Reading Upgrade Version 2 features:

A more robust online reading course (more words, sentences, passages)
Innovative techniques to help with special needs education
Reduced memorization (improves results for students with dyslexia)
Updated songs, videos, games focused on clarity and improved learning
Reduced guessing (questions restructured to increase motivation to read accurately)
A new final challenge that gives students a true sense of accomplishment
Reading Upgrade is a research-based course, modeled after the results of the National Reading Panel's April 2000 Report. The course aligns to state curriculum standards for Language Arts and is rooted in effective learning strategies that work.
Pop songs, videos, games and a fast-paced interactive atmosphere keep things light and fun, giving students the true motivation they need to learn reading. Students say it feels more like playing than doing homework so they actually look forward to learning.
"Our challenge was to improve the course and still keep the fun stuff," said Vinod Lobo, CEO of Learning Upgrade. "We received feedback from teachers, parents and students from around the world. The result is a course that is even more engaging with songs, videos and games and is better suited to help struggling readers find reading success."
Learning Upgrade's online education courses have been providing consistent positive results to students and adult learners since 2001. More than 50,000 students from 40 countries around the world have used the online courses (Reading Upgrade, Comprehension Upgrade and Math Upgrade) to improve test scores, jump reading levels and to prepare for standardized tests including entrance exams for teaching and nursing school.
The course is for students of all ages (including adults). It takes between 3 to 8 weeks to complete and reading skills can improve by 1 to 2 grade levels or more. At just $99.95 per student, Learning Upgrade's online courses deliver highly effective results for thousands of dollars less than expensive tutoring programs.
Enroll for a free 7-day trial of Reading Upgrade Version 2 (no credit card required) and learn more about how the course helps students with dyslexia, special needs, adult learners or anyone who wants to improve the reading skills of their child, their student or themselves.
###