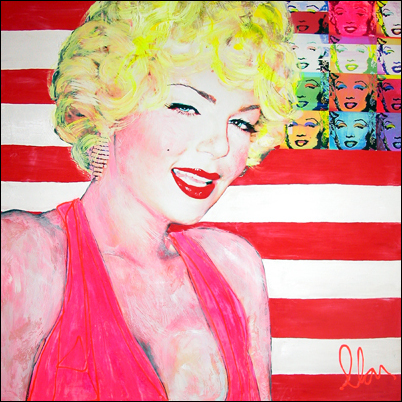 It's about beauty, starvation, love, violence, intolerance, tragedy and death, basically your average day for any New Yorker.
New York, NY (PRWEB) July 3, 2007
This moving exhibition is promoting a new show by Olan, one of New York's most prominent artists and will portray this theme with vivid and contrasting artwork. "The exhibit is sure to be poignantly contrary to what one should expect," says Olan. "It's a fabulous blend of pop art and irony and each piece of artwork truly tells a tale." The exhibit will be exclusively at the non-profit Ward-Nasse Gallery, with an Opening and Meet the Artist reception on Saturday, July 7th, from 8 p.m. - 1 a.m.
Olan is known to create his art focusing on aspects of society that one might tend to overlook like his tribute to local bank tellers at Chase Manhattan in New York written about by the New York Times in an article entitled "Tellers in Tangerine" published in 2003 where the artist created art about a segment of society asking the viewer to simply "look more closely at the individual standing beside you", a prime example of Olan's conviction.
When asked to describe his current exhibtiion 'Ironic' in Olan's words, "It's about beauty, starvation, love, violence, intolerance, tragedy and death, basically your average day for any New Yorker."
Marilyn Moving Art July 6th New York City Itinerary for photo opts:
11 am - Union Square (14th Street) Drive down Broadway stop in front of City Hall
12:00 - City Hall
12:45 pm - Wall Street and Broadway (Church) (will be walking to the NY Stock Exchange)
2:15 pm - Go to Broadway between 7th and 8th on 42nd Street (245 Broadway - Yankee Club House Store) and walk up 42nd Street.....
3:00 pm - Go to 52nd and Lexington where Marilyn Monroe filmed the Seven Year Itch (Dress was blown up in the film and Marilyn said "isn't it delicious!")
3:45pm Go to 57th and 5th Ave. (by 718 fifth Avenue at Harry Winston for the Diamonds are a girls best friend, which they are! "Talk with me Harry Winston Diamonds are a Girls Best Friend," Marilyn said in the movie)
5:00 pm: Cocktails at Bamboo 52 located at 344 West 52nd St./8th Av, 212-315-2777 with Press
For information on Pop Marilyn and her appearances throughout New York City, please call HJMT Communications, LLC at 516-997-1950.
For more information on Olan's exhibit please call Ward Nasse Gallery at 212-925-6951.
About Olan:
Olan is a cutting edge, multimedia artist whose bold style has graced the Manhattan scene for the past 6 years. A fresh new look on modern art, Olan's work has seamlessly bridged visual arts and club scenes focusing on the individual through color and form, many of his subjects being underground NY nightlife figures like Boy George and Amanda Lepore. "My paintings are colorful but they deal with serious issues in society today," he says. Working from his own photographs, which are hand painted on canvas, his diverse subjects range from celebrities to unique individuals he meets on the streets.
###