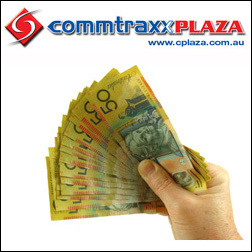 Sydney, Australia (PRWEB) July 5, 2007
The new-look Commtraxx Plaza (http://www.cplaza.com.au) has issued its July 2007 newsletter. Pick yours up today to keep abreast of latest developments in the Australian Mortgage and Finance Industry.
This month's Commtraxx Plaza Newsletter includes:
Introducing Australia's Newest Aggregator - Mortgage House Aggregation Service
Stop flushing away a percentage of your commission. Mortgage House Aggregation Service has opened its doors and is offering:

100% commissions
A fresh and simple approach for the broker who just opened their doors right through to the seasoned campaigner. Our model works for you and your client.
A suite of lenders that not only lets you deliver impartial solutions but position the right loan with your client all the time.
Choice of fee structures.
Over 200 Australian & NZ Mortgage/Finance Industry Jobs
Looking for a job in this industry? Take another look at Commtraxx Plaza's Positions Vacant board. With more than 200 jobs posted, it is the place to find your next career move. If you're an employer looking to hire, we would like to remind you that you're invited to list your job advertisement free.
New Commtraxx Plaza RSS Feeds
Have you ever seen those little orange "RSS" rectangles on an increasing number of web pages? Well you will now see them on Commtraxx Plaza. Just what is RSS and how can you use RSS feeds to your benefit?
Commtraxx Advantage Referral System
Commtraxx Plaza can connect you with specialist lenders and brokers with the expertise to obtain finance for difficult or unusual situations. Settle a loan with any Plaza merchant with whom you have made a connection through the cplaza.com.au website and you will also earn bonus commissions.
New Look Commtraxx Plaza Classifieds
We have renovated Commtraxx Plaza Classifieds to make searching and browsing quicker and easier than ever before. Take another look.
Visit Commtraxx Plaza for more information and resources for Australian mortgage and finance industry participants.
###