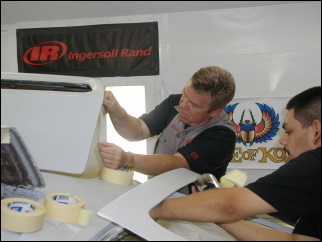 Huntington Beach, CA (PRWEB) July 5, 2007
For the first time, the producers of the acclaimed series have assembled two teams of all-star builders and designers to tackle projects so daunting and demanding, Executive Producer Dan Woods, called upon the return of two uber-crews to take the projects from "ignored to restored" throughout an entire 13 episode - season long run.
Veteran restoration experts from American Muscle Cars return to create a 1964 Impala show car that will steal eyes on the street and judge's admiration at any autoshow. Melding scrap yard finds with state-of-the-art replacement parts and components from Classic Industries, is the feat driving them to sweet success. The burn for power will be fulfilled with a GM 454 big block - creating a dream show car that truly combines riveting eye-candy with a lust for heat!
While customizing champions from Syndicate Automotive Concepts cross over from victory on CCR's hit sister series "Street Tuner Challenge". Their new challenge? In the 'Chop Cut Rebuild' tradition for delivering world broadcast firsts - the rescue of a car that was one of less than 3,000 ever produced - Taking it far beyond salvation to mind bending stardom.
Presented with a nearly gone 1975 Bricklin SV-1, the rare sports 'safety' vehicle gets its unique gull-winged door concept look taken to the zenith of creativity…and beyond. This Bricklin is not going to be simply returned to grace. With a body re-creation that defies words… and nearly 500 horses kicking under its hood - This relic will get regal and lethal.
This summer the heat will be on again in thirteen episodes of CCR brand - automotive outrageous television production.
Chop Cut Rebuild…
Build it wild…Drive it bold.
Catch it all on…SPEED.
###